News Tag Filter:
Press Release
Oct 18
Nintendo has confirmed that there is a serious bug in the latest games Pokémon X and Pokémon Y and has issued a press release regarding the issue. They currently recommend that players do not save their game in the areas of Lumiose City (Miare City ミアレシティ) that are marked with the blue gradient on the map below. Nintendo apologized for the bug and indicated that they are working hard to fix the problem and that a patch will be posted on the Nintendo eShop soon. Saving in these areas can cause an corruption of the players save data and requires players to start the game all over again from the beginning.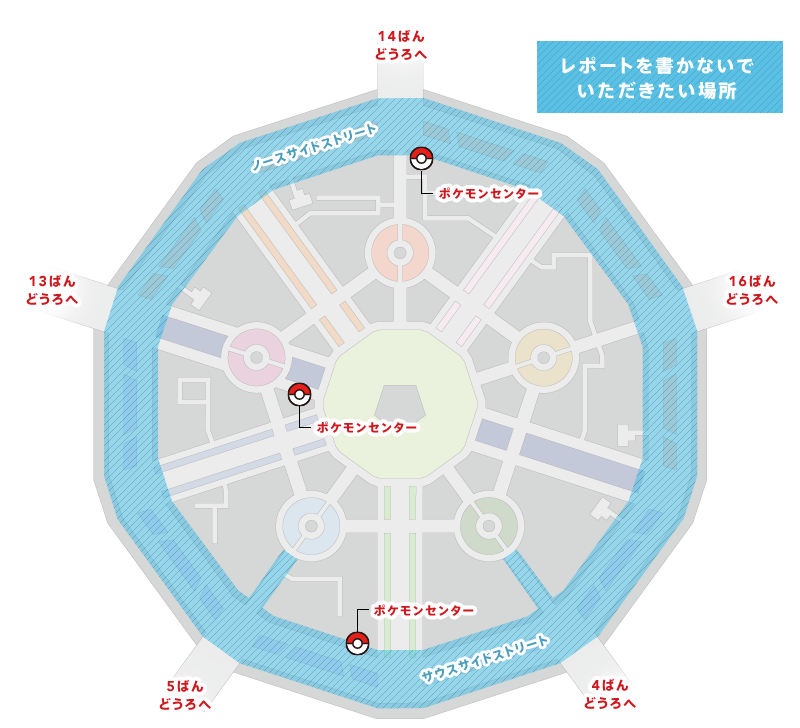 Press Release - 任天堂株式会社 | ニンテンドー3DS専用ソフト『ポケットモンスター X・Y』ミアレシティでのレポートについてのお願い
Thank you very much for enjoying the Pocket Monsters series. It has come to our attention that the Nintendo 3DS-exclusive games Pocket Monsters X and Y include a glitch that makes it unable for players to resume their game if data is saved in certain locations. Because of this, we will give you instructions on how to avoid this glitch as you play. We apologize to everyone for any inconvenience this glitch may have caused, and kindly ask you to note the following. Also, a game patch is being prepared for customers who have already been affected by the glitch. We will give you further instructions once the patch is ready.
いつも『ポケットモンスター』シリーズをお楽しみいただきまして誠にありがとうございます。2013年10月12日発売のニンテンドー3DS専用ソフト『ポケットモンスター X・Y』に関しまして、ゲームデータのレポートを書く場所によっては、まれにゲームを再開した時に操作ができなくなってしまう症状が発生することが判明いたしました。つきましては、その症状を回避しながらプレイしていただける方法をご案内いたします。ご利用の皆様にはご不便をおかけいたしますが、下記にご留意いただきますようお願い申し上げます。なお、すでに症状が発生してしまったお客様向けに、修正プログラムを準備中です。こちらは準備が整い次第ご案内いたします。
Where the Bug Occurs: If you save the game in the parts of Miare City indicated on the map, then exit the game, the game may not function when you attempt to start it up again.
発生する症状: ミアレシティの一部の場所(下図参照)でレポートを書いてゲームを終了すると、まれにゲームを再開したときに操作ができなくなってしまうことがあります。
How to avoid the bug: Please do not save your game in the areas shown in blue on the map below. Note that even in Miare City, there is no issue with saving inside buildings, such as the Pokémon Centers.
症状の回避方法: 以下の青色で示したエリアではレポートを書かないようお願いいたします。なお、ミアレシティでも、ポケモンセンターなどの建物の中ではレポートを書いても問題ありません。
Information on what to do if you experience the bug: We are preparing a patch for repairing your saves, which will be available through the Nintendo e-shop in a few days. As soon as it is ready, we will inform players but for now we ask that you wait until its ready.
症状が発生した場合の対処について: お客様のレポートを修復するための「修正プログラム」を近日中に『ニンテンドーeショップ』より配信させていただく準備を進めています。準備ができ次第、改めてお知らせいたしますので、今しばらくお待ちいただきますようお願いいたします。
Source:
http://www.nintendo.co.jp/3ds/ekjj/info/index.html
Article edited on 2013-10-19 01:15:04 by Sunain
Oct 15
The Pokémon Company has announced that the Pokémon TCG: XY expansion will introduce Mega Evolution into the Pokémon Card Game.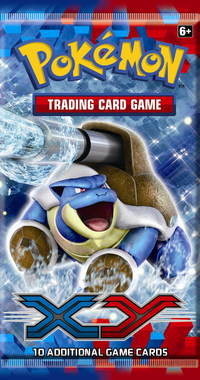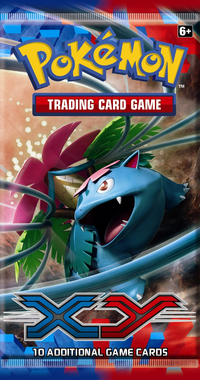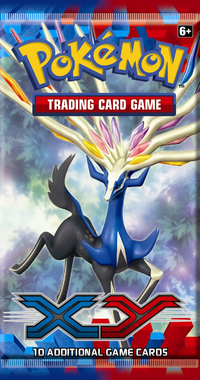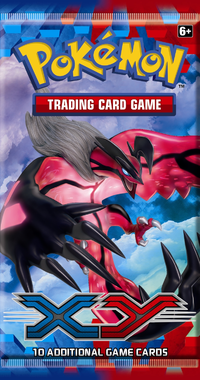 They also revealed EX cards for Venusaur, Xerneas and Yveltal.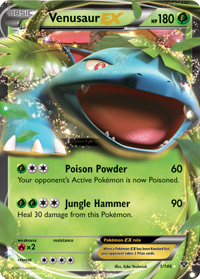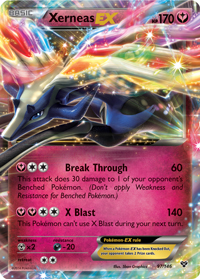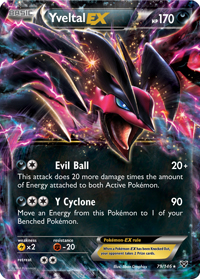 Press Release - Pokémon TCG: XY Introduces Mega Evolution to Extremely Powerful Pokémon EX Cards
New Mega Evolution Game Mechanic Will Revolutionise Pokémon TCG Strategy
London, UK—October 15, 2013—Mega Evolution, what could be described as an Evolution beyond all Evolutions, is changing the landscape of battles in the recently launched Pokémon X and Pokémon Y video games for the Nintendo 3DS. This revolutionary game mechanic is also coming to the brand-new Pokémon Trading Card Game: XY expansion when 10-card booster packs arrive at retail in The UK in February, 2014. Mega Evolution Pokémon evolve from Pokémon-EX, extremely powerful cards in their own right, creating a force that will change the way Pokémon TCG players build decks and create strategies for battle.
Before players Mega Evolve a Pokémon like Venusaur-EX or Blastoise-EX, they must consider the situation carefully because doing so ends their turn immediately, which means they can't attack. The risky move is worth the reward, however, because Mega Evolution Pokémon exhibit a strength that surpasses Pokémon-EX. Hard-hitting attacks and high HP totals make Mega Evolution Pokémon dominant during Pokémon TCG matches.
Look out for the Pokémon TCG: XY expansion, including powerful Pokémon-EX cards, in February, 2014. The Pokémon TCG: XY—Kalos Starter Set, featuring new Fairy-type Pokémon, the first Pokémon type in the Pokémon TCG to have resistance to Darkness-type Pokémon, launches November 8, 2014. Each XY—Kalos Starter Set deck and XY booster pack will include a code card that unlocks virtual cards for the Pokémon TCG Online.
Oct 04
Union J
have announced that they will be changing their group name to Union XY on October 12th, 2013 to celebrate the releases of Pokémon X and Y. The UK boy band consists of: George Shelley, Josh Cuthbert, JJ Hamblett and Jaymi Hensley and was formed during the 2012 season of The X Factor UK.
Our imageboard has pictures from the press release
.
Press Release
London, UK—October 4th, 2013: In a move that reflects their enthusiasm for everything Pokémon, Union J have announced today that they will change their name to Union XY to mark the launch of the Pokémon X and Pokémon Y video games for Nintendo 3DS™, on October 12th.
For one day only, Union J will celebrate the release of Pokémon X and Pokémon Y with their name change to Union XY—a suggestion made by band member George Shelley and supported by his band mates. The official press announcement was made today (October 4th) at the Charlotte Street Hotel in London, where the band revealed the news to a packed press conference.
"We've always loved Pokémon and it was a massive part of my childhood, I'm hooked on it," explained George. "When I was telling the rest of the band how excited I was about playing Pokémon X and Pokémon Y, the idea to change our name just came to me. It's so cool to be part of the game in some way; it feels like a natural fit."
Josh, Jaymi, George, and JJ are all fans of Pokémon and are familiar with each generation of Pokémon games. During the filming of the X Factor, Josh and George brought Nintendo DS™ systems to play Pokémon Black, JJ loves Pokémon Emerald, and Jaymi's favourite game is Pokémon Crystal.
The official name change will happen on October 12th, the same day as Pokémon X and Pokémon Y release exclusively on Nintendo 3DS.
For further updates on Union XY, take a look at their Twitter page: @UnionJWorld.
Oct 02
The Nintendo World website has confirmed that a special preview event will take place at the Nintendo World store on October 5th, 2013 from 12pm until 2pm Eastern.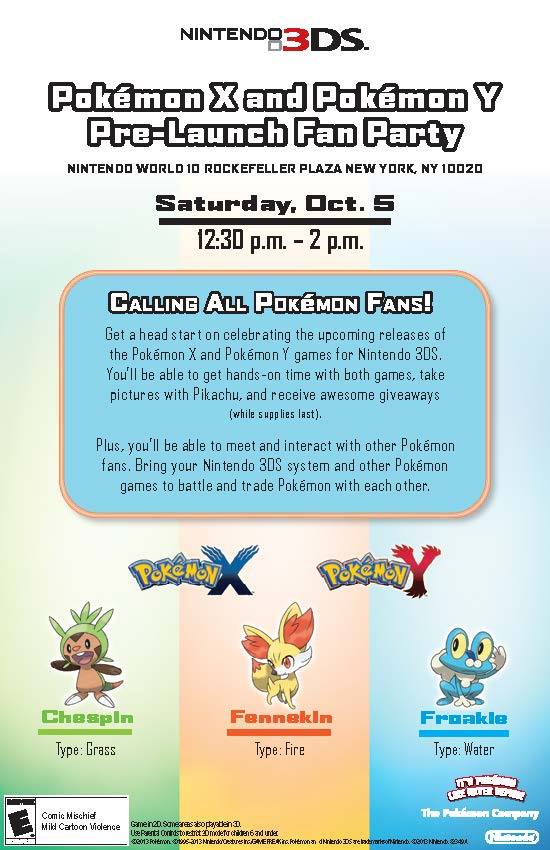 Pokémon Fan Gathering
12:00pm-2:00pm - Can't wait for Pokémon X and Pokémon Y? Be among the first to demo the game during our Pokémon fan gathering event on October 5th from 12pm to 2pm. There will also be Pokémon goodies for fans who stop by, while supplies last.
Source:
http://www.nintendoworldstore.com/
Oct 02
During today's special
Pocket Monsters THE ORIGIN ( ポケットモンスター THE ORIGIN)
, a special announcement was shown and it revealed Mega Charizard X.
Mega Charizard X
Mega Charizard Y
Species: Flame Pokémon
Type: Fire/Dragon
Ability: Tough Claws
Height: 5' 07"
Weight: 243.6 lbs.
Species: Flame Pokémon
Type: Fire/Flying
Ability: Drought
Height: 5' 07"
Weight: 221.6 lbs.
Mega Charizard X Revealed in Pokémon X
Last month it was revealed that fan favourite Charizard can achieve Mega Evolution, an extremely powerful form that only certain Pokémon can access during battles in the Pokémon X and Pokémon Y video games, launching worldwide October 12 for the Nintendo 3DS. It is now known that Charizard can Mega Evolve into either Mega Charizard X or Mega Charizard Y, depending on which Mega Stone it holds—Charizardite X or Charizardite Y. When Charizard Mega Evolves into Mega Charizard X, its body turns black and its flames burn blue with increased heat. It also changes types when it Mega Evolves, changing from a Fire- and Flying-type Pokémon to a Fire- and Dragon-type Pokémon!
The previously revealed Mega Charizard is in fact Mega Charizard Y. Players will need to obtain Charizardite Y in Pokémon Y in order to Mega Evolve Charizard into Mega Charizard Y. Mega Charizard Y's Special Attack increases significantly, and its Ability changes to Drought, increasing the power of Fire-type moves. Mega Charizard Y can use the Fire-type move Blast Burn, which becomes even more powerful with the effect of the Drought Ability.
Mega Charizard X is being introduced for the first time today. Players can obtain Charizardite X in Pokémon X and Mega Evolve Charizard into Mega Charizard X. Mega Charizard X's Attack increases significantly, and its Ability changes to Tough Claws, which raises the power of moves that make direct contact. This Ability comes in handy when Mega Charizard X uses the Dragon-type move Dragon Tail, which does damage and can force an opposing Pokémon to switch out during battle.
The Pokémon Company International is sharing a gameplay trailer featuring Mega Charizard X and Mega Charizard Y in action.
Mega Charizard X Trailer
Source:
http://www.pokemonxy.com/en-us/pokemon/mega_pokemon/
Article edited on 2013-10-03 03:55:58 by Sunain
Sep 30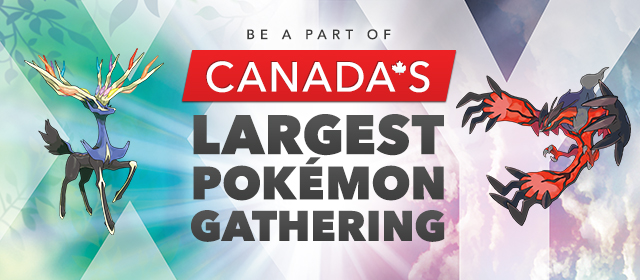 Nintendo of Canada has revealed that the official launch party for Pokémon X and Pokémon Y will be held in downtown Toronto. Below are the full details.
Press Release English
Pokémon Fans! We know you have been waiting anxiously for the worldwide launch of Pokémon X & Pokémon Y! The day is almost here and Nintendo would like to invite you to participate in Canada's Largest Pokémon X & Pokémon Y Gathering.
If you're not in the Toronto area but want to participate in a gathering near you,
click here
to find the location nearest you.
THE GATHERING WILL BE TAKING PLACE ON: October 11th from 3:00pm to 9:00pm
WestJet Stage at the Harbourfront Centre
235 Queens Quay W.
This is the first worldwide launch of a Pokémon title and we are celebrating by hosting our launch event alongside other launch events happening around the world!
When you come down, you will be able to play Pokémon X and Pokémon Y before it hits the shelves! Don't forget to bring your own Nintendo 3DS or Nintendo DS and your favourite Pokémon titles since this is a great opportunity to meet other Pokémon fans, exchange tips and maybe even trade a Pokémon or two.
Pokémon fans may walk away with an item to commemorate the launch of Pokémon X and Pokémon Y and Canada's largest Pokémon gathering! Arrive early as giveaways are limited.
In addition, if you come down dressed up as your favorite Pokémon or Trainer you may receive a Poké Ball Game Case*.
Press Release French
Avis aux fans Pokémon! Nous savons que vous attendez avec impatience la sortie mondiale de Pokémon X et Pokémon Y! Le jour J approche enfin, et Nintendo souhaite vous inviter à participer au plus grand rassemblement Pokémon X et Pokémon Y du Canada. L'événement aura lieu le 11 octobre, de 15 h à 21 h, au WestJet Stage du Harbourfront Centre, situé au 235 Queens Quay W.
Ce titre Pokémon est le tout premier de la série à bénéficier d'un lancement mondial. Nous célébrons cette occasion en organisant notre événement de lancement en même temps que d'autres événements de lancement à travers le monde!
Durant le rassemblement, vous aurez la chance de jouer à Pokémon X et Pokémon Y avant sa sortie officielle! N'oubliez pas d'emporter votre propre Nintendo 3DS ou Nintendo DS ainsi que vos titres Pokémon préférés : ce sera l'occasion idéale de rencontrer d'autres fans Pokémon, de partager des trucs et astuces et même peut-être d'échanger quelques Pokémon.
Les fans Pokémon courront la chance d'obtenir un souvenir commémorant le plus grand rassemblement Pokémon du Canada en l'honneur de la sortie de Pokémon X et Pokémon Y! Arrivez tôt : les stocks de souvenirs à donner sont limités.
De plus, si vous vous déguisez en votre Pokémon ou Dresseur préféré, vous pourriez recevoir une boîte de rangement pour cartes DS en forme de Poké Ball*.
Si vous n'habitez pas près de Toronto et que vous souhaitez participer à un rassemblement près de chez vous, cliquez ici pour trouver le point de rencontre le plus près.
Source:
http://www.nintendo.com/whatsnew/detail/8gBQNDMYXjShz1ngm5hVg5_eRsEWgdrq?country=CA&lang=en
Article edited on 2013-09-30 10:27:09 by Sunain