超!しょこたん☆べすと――(°∀°)――!!【初回生産限定盤B】
Chō! Shoko-tan ☆ Best ――(°∀°)――!! (Shokai seisan gentei-ban B)
Super! Shoko-tan Best (Limited First Edition B)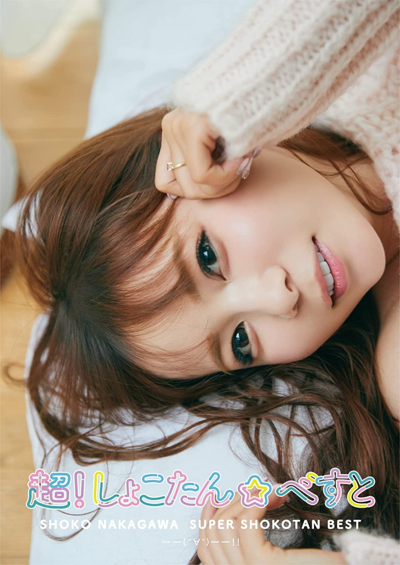 Details
| | |
| --- | --- |
| Artists: | 中川翔子 |
| Arists (Alt): | Shoko Nakagawa |
| Catalog #: | SRCL-12360 |
| Release Date: | 2023-02-22 |
| Media Type: | CD |
| Discs/Tracks: | 26 tracks on 2 discs |
| Price/MSRP: | ¥5,980 |
| Runtime: | 00:00 |
| Studio: | Sony Records |
Description:
Shoko Nakagawa celebrates the 20th anniversary of her performing career with a Super! Best Album! Over 900,000 YouTube subscribers! A photo book "Miracle Future" is now on sale! This is the best album of Shoko Nakagawa's music career! CD Disc 1 and 2 are the same for all releases.
中川翔子、芸能生活20周年記念の超(すーぱー)!ベストアルバム!!芸能生活20周年!YouTube登録者数90万人越え!写真集「ミラクルミライ」ミラクル大ヒット発売中!まさに飛ぶ鳥を落とす勢いの中川翔子の音楽活動を網羅した超(すーぱー)ベストアルバム!完全生産限定盤にはファンから楽曲アンケートを募集する「しょこたん☆せるふかばー」を収録予定となっております。
Blu-ray収録内容
初回生産限定盤B 収録
中川翔子 超貪欲☆まつり IN 日本武道館(2009.10.24)
空色デイズ -天元突破EDITION 螺厳篇-
We can do it!!
rainbow forecast
Brilliant Dream -shoko☆planet mix-
超貪欲☆メドレー
せーので恋しちゃえ♡
pretty please chocolate on top
綺麗ア・ラ・モード
心のアンテナ
涙の種、笑顔の花 -10.24 武道館ver.-
続く世界
calling location
「ありがとうの笑顔」
Shiny GATE
午前六時
happily ever after
空色デイズ
Images