Creatures, Inc.
Nintendo
Nintendo Wii
November 12th、 2011 (JPN)
February 27th, 2012 (USA)
March 23rd, 2012 (EUR)
March 29th, 2012 (AUS)
Single player
CERO: A (JPN)
WiiMote
Nunchuck
PokéPark 2 Main Page - Description - Story/Information - Dex List - Features - Screenshots
Description:
PokéPark 2 Beyond the World (ポケパーク2 ビヨンド・ザ・ワールド) was first revealed during in the October 2011 issue of Corocoro magazine. It is the sequel to the popular game
PokéPark Wii: Pikachu's Adventure (ポケパークWii ピカチュウの大冒険)
which was released for the Nintendo Wii as well. PokéPark 2 was released in Japan on November 12th、 2011 and retailed for 5,800 yen. The games catalog number is RVL-P-S2LJ.
Story/Information:
Like the previous PokéPark game, PokéPark 2 Beyond the World (ポケパーク2 ビヨンド・ザ・ワールド) takes place in a Pokémon's playground called PokéPark. Unlike the first game, there is now two distinct areas in this game: PokéPark (ポケパーク) and Another World (もうひとつの世界).
It's up to Pikachu and his Pals - Oshawott, Snivy, and Tepig - and their unique abilities, to make it through PokéPark, save the missing Pokémon, and discover the secrets of a mysterious new world. Along the way, Pikachu and his Pals encounter and befriend many Pokémon from the Unova region and beyond who will help Pikachu along the way. Experience the fun of activities, battles, Attractions, and more on your quest! Plus, you can enjoy Attractions in single player mode, or challenge family and friends in multiplayer mode. Use the Wii Remote controller in all sorts of ways when playing Attractions, boss battles, and more. (
Description Source
)
Players that pre-ordered the game in the United States at participating Gamestop locations received an exclusive set of four Wii Remote Clings for PokePark 2: Wonders Beyond at the time of purchase.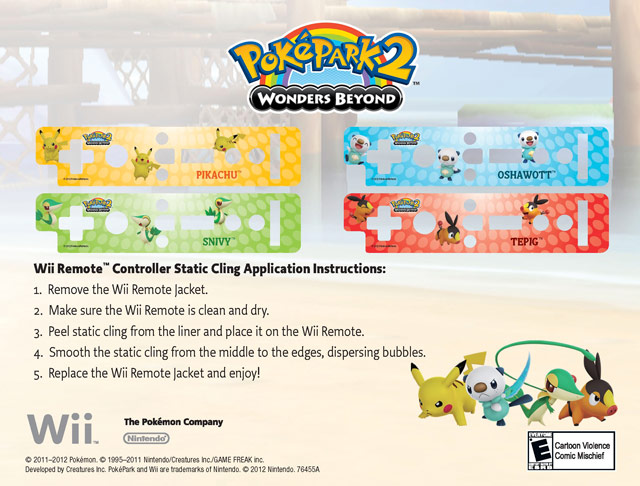 Features:
Pokémon from all five generation in 3D are available in the game.
Players can take photos of their favorite Pokémon in the game and save them to an SD Card (sold separately). Share screenshots with friends by saving the pictures to an SD card in .JPG format and copy to your computer.
Various areas and locations completely in 3D.
Players interact with and befriend some Pokémon by defeating them in Skill Games. Once players befriend a Pokémon, they can play as them to compete in certain Attractions. Players can compete in the challenges multiple times to try and beat their high score.
Enter a world filled with many Pokémon to befriend. They might even help you when you least expect it! How many can you find?
Experience the fun with Attractions, activities, battles and more in PokéPark. Enjoy Attractions in single or multiplayer mode! The whole family can have fun playing with their Wii and the new multi-player PokéPark Wii: Pikachu's Adventure
Interact with and befriend many different Pokémon throughout PokéPark. Once you befriend Pokémon, they can help you in future challenges and battles!
Battle Attraction bosses and other challenging Pokémon in both of the exciting worlds!
Compete in a variety of Attractions using the Wii Remote! Try to beat your high score or play against up to 3 others as you challenge your family and friends!
New Skill Games and Attractions: PokéPark 2: Wonders Beyond offers single or multi-player fun for the whole family with new skill games, attractions and battles to explore on your quest with the beloved Pokémon characters.
Trusted Franchise for Younger Kids: PokéPark 2: Wonders Beyond offers a trusted franchise that's easy to pick up & and play for younger kids.
New Pokémon Characters: Fans of the Pokémon series can now enjoy even more of Pikachu and friends—and befriend new characters introduced in PokéPark 2: Wonders Beyond. Now you can play as Pikachu, Oshawott, Snivy, or Tepig and each have unique abilities!
Reunite with your favorite Pokémon characters: PokéPark 2: Wonders Beyond also includes Pokémon from the hugely popular Pokémon Black Version & Pokémon White Version, and has nearly 200 fully animated Pokémon with voices and unique personalities bringing them to life.
Bring the cartoon to life: If there's fans of the Pokémon cartoon in your house, PokéPark 2: Wonders Beyond is a great and easy introduction to the video game series
Screenshots:
---
This page has been viewed 18387 times.
Last updated 10 Feb 2012 04:19 by Sunain.
Revision #11