Description:
Nintendo announced Pokémon Sword and Shield on June 5th, 2019 during the
Pokémon Direct
broadcast. The games are the first for the 8th generation of Pokémon on the Nintendo Switch. Players begin their adventure as a Pokémon Trainer by choosing one of three new partner Pokémon: Grookey, Scorbunny, or Sobble. Then they embark on a journey in the new Galar region, where they challenge the troublemakers of Team Yell, while unraveling the mystery behind the Legendary Pokémon Zacian and Zamazenta! Explore the Wild Area, a vast expanse of land where players can freely control the camera. Team up with three other players locally or online in the new multiplayer co-op Max Raid Battles in which players will face off against gigantic and super-strong Pokémon known as Dynamax Pokémon.
Story/Information:
The games take place in the vast Galar region (ガラル地方) which is based off of the United Kingdom. The region has a variety of localities including: rural landscapes, modern cities, majestic meadows and steep snowy mountains.
People of the Galar Region:
In
Pokémon Sword
and
Pokémon Shield,
players will be traveling through the Galar region, where they will find many unique locations, such as cities where Pokémon and people work and live together. Pokémon play an important role in the Galar region where many companies are eager to include Pokémon as part of their workforce. In Galarian culture, Pokémon battles are regarded as the most popular form of entertainment. Pokémon battles are held in stadiums, where challengers and Gym Leaders face off to the passionate cheers of fans and spectators. The Pokémon League is where Trainers gather to compete in Pokémon battles and hone their skills. Players will have to battle the Pokémon Gyms found around the region as they try to reach the pinnacle of the Pokémon League and earn the title of Champion.
As a resident of the Galar region, players will embark on an adventure to become the Champion and meet many people and Pokémon along the way.
Leon
Leon is the strongest Trainer in the Galar region, and he won the Championship in his first-ever Gym Challenge—without being defeated in battle a single time. To this day, his winning streak continues to grow, and his formidable talent for Pokémon battles is unmatched. He's aided in his countless victories by his partner Charizard, and he's known to go all out during battles, no matter who he's facing. His battle style has captured the hearts of the people of Galar.
Hop
is Leon's younger brother and will become one of the player's rivals. The player and Hop are neighbors and begin their journey to become Champion on the same day.

Professor Magnolia
is the preeminent Pokémon Professor of the Galar region. The main focus of her research has been the Dynamax phenomenon.
Sonia
is the granddaughter of Professor Magnolia as well as being Leon's childhood friend. Besides being very knowledgeable and willing to offer helpful advice to the player, Sonia is also a young researcher and Professor Magnolia's assistant.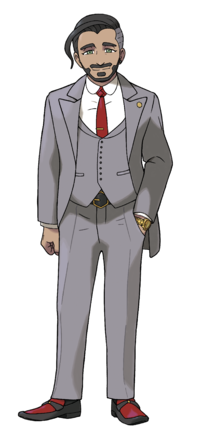 Chairman Rose
Rose is the chairman of the Galar Pokémon League and the president of a large business conglomerate. He's made the Galar Pokémon League famous by implementing Gym Battles featuring the Dynamax phenomenon. Chairman Rose was also the first to endorse Leon for the Gym Challenge.
Oleana
Oleana is Chairman Rose's secretary and is known for her calm and collected personality. She also serves as the vice president of Rose's company and is largely in charge of the day-to-day running of the company.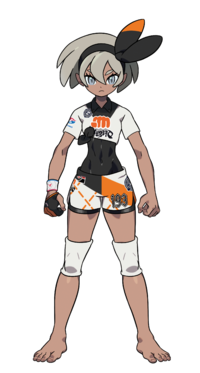 Bea
Bea is a prodigy in Galar karate, carrying on its century-old traditions and techniques. Known for her stoicism and rarely showing her emotions, Bea is also an expert on Fighting-type Pokémon. Her battle style remains very precise even when she's backed into a corner.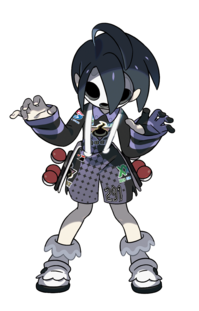 Allister
Allister is a talented Trainer of Ghost-type Pokémon who has taken on the mantle of the Ghost-type Gym Leader at a young age. He's extremely shy and fearful, and he always hides his face with a mask when around other people. Allister rarely makes public appearances and apparently spends most of his time around ruins or in cemeteries.
Certain towns in the Galar region will have different Gyms that Trainers can challenge depending on whether they're playing Pokémon Sword or Pokémon Shield. In Pokémon Sword, they will face down Bea, while in Pokémon Shield, they can test their skills against Allister.
Rivals of the Galar Region
Many Trainers from across the region take part in the Gym Challenge, a competition in which participants face the various Gyms of Galar with the hopes of becoming the Champion. Two rivals that Trainers will compete with on their adventures are Marnie and Bede.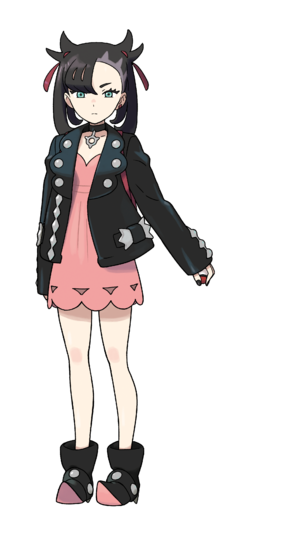 Marnie
Marnie is a rival who has a competitive side, and together with her partner Morpeko, she aims to become the Champion of the Galar region. She has many passionate fans due to her calm and calculated battle strategies.
Bede
Bede is a rival who is skilled at Pokémon battles and has the pride to match. He has joined the Gym Challenge, having received his endorsement from Rose, the chairman of the Galar Pokémon League. While he clearly is aiming to become Champion, he seems to have other objectives as well.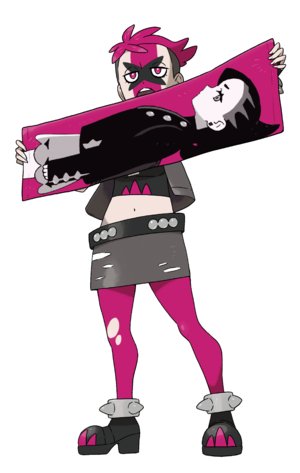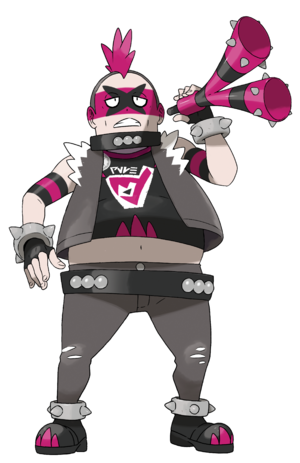 Team Yell
Team Yell is a group of troublemakers who seem to appear everywhere and who attempt to get in the way at every opportunity. They want nothing more than for Marnie to become Champion, so they try to obstruct other challengers. They take over hotel lobbies, prevent challengers from accessing transportation, and even shout and distract opponents during battle. Whenever Marnie battles, these Team Yell Grunts are quick to appear, showing their support with Marnie-print towels and horns.
Poké Jobs Help Pokémon Grow
In the Galar region, people and Pokémon often work together. Corporations and universities request the help of Pokémon through Poké Jobs. Trainers can check for available Poké Jobs at the Rotomi in Pokémon Centers and will be able send Pokémon directly from their Boxes to any job they accept. Trainers will find that certain Pokémon types are suited for specific jobs. The experience gained while on the job will help Pokémon grow, and Trainers may even receive rare items as rewards.
Poké Jobs
In the Galar region, it is very common for people and Pokémon to work together. Many corporations and universities request the help of Pokémon through what are known as Poké Jobs.
You can check available Poké Jobs at the Rotomi in Pokémon Centers, and you'll also be able to send Pokémon from your Boxes directly to any job you accept!
The Pokémon you send will help out with the job, and the experience will even help them grow. There are many different Poké Jobs available. You'll find that certain Pokémon types are suited for specific jobs, too. Helping out for a long time or sending as many Pokémon as you can on a job can also net some good results. You might even receive some rare items!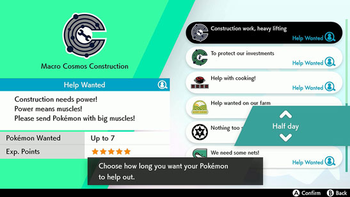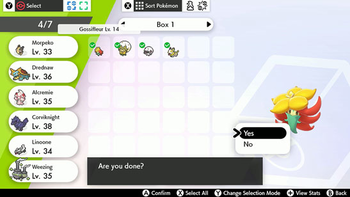 There are many places requesting the help of Pokémon, including corporations and universities. You'll choose the Pokémon you want to send to the Poké Job from your Boxes.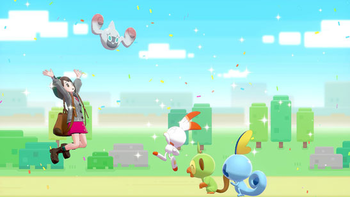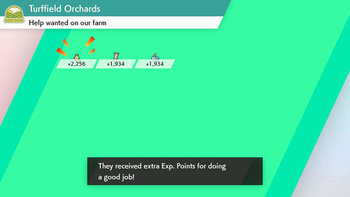 Each Pokémon sent to a Poké Job will come back having grown from the experience! They'll receive rewards like Exp. Points or base points, and how much they get will depend on factors like how long they work and their types!
Rotomi
This is Rotomi—your new helper in Pokémon Centers with a ton of features. You can accept jobs from the Rotomi you can find in every Pokémon Center around the Galar region. Rotomi have many different features aside from Poké Jobs, too—you can access your Boxes or even have a go at the Loto-ID!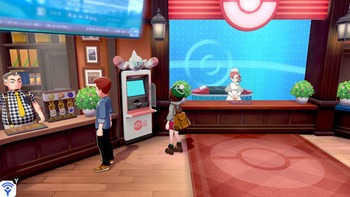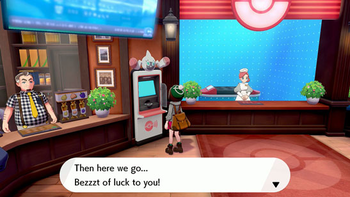 You can find Rotomi in any Pokémon Center in the Galar region. It has many features, such as the Loto-ID.
Dynamax Phenomenon
Dynamax
is a phenomenon unique to specific locations in the Galar region, where Pokémon can take on gigantic appearances during battle, and it's an integral part of Pokémon battles in the region. Pokémon from the Galar region are able to Dynamax, and when they do, they become tremendously strong and receive a boost to their power. Trainers can only Dynamax their Pokémon once during battle and the Dynamaxed Pokémon will return to its regular form after three turns. Only Trainers who possess a Dynamax Band can Dynamax their Pokémon.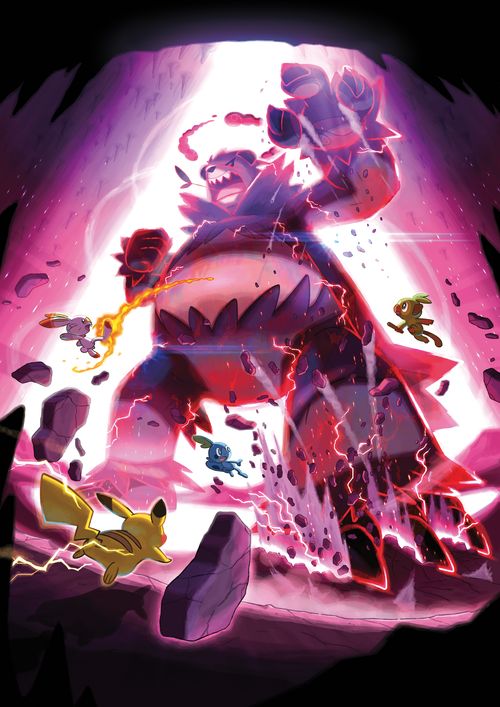 All the moves of a Dynamax Pokémon will turn into special Max Moves. Max Moves are powerful, and some can even trigger additional effects. For example, the Normal-type Max Move, Max Strike, has the additional effect of lowering the Speed stat of an opponent it hits. The Max Moves the player's Pokémon can use are determined by the kind and types of moves they knew before Dynamaxing.
Pokémon Gyms - Galar Region
Pokémon Gyms are found in stadiums throughout the Galar region and attract Trainers that are experts in specific types of Pokémon. To become Champion, players will need to defeat the top Trainer in each Pokémon Gym, also known as the Gym Leader. Spectators flock to the Gym Stadium to view these battles with Gym Leaders, which often involve intense clashes between Dynamax Pokémon. The matches are also broadcast on television throughout the Galar region. Milo is the Grass Gym Leader and is well liked by the Trainers of his Gym. His credo is to always enjoy battles and he specializes in endurance matches using Grass-type Pokémon.
Wild Area
The
Wild Area
is a vast expanse of land in the Galar region with untamed wilderness. It is full of nature and connects several different towns and cities. Trainers will find a greater variety of Pokémon living in the Wild Area than anywhere else in the Galar region. The Pokémon encountered in the Wild Area will change depending on factors like weather or location, so Trainers might see something new each time they visit. While in the Wild Area, players can control the camera to explore the vast areas around them and search for Pokémon and items.
Max Raid Battles
Max Raid Battles are a new battle format that takes place in the Wild Area, in which the player will team up with three other Trainers to take on a wild Dynamax Pokémon. Trainers will then get a chance to catch the wild Dynamax Pokémon if they manage to defeat it—but it won't go down easily. The wild Dynamax Pokémon remain in their giant form the entire battle and have other unique powers. Close teamwork is the key to success, because only one Trainer involved in the battle can Dynamax their Pokémon. Some Pokémon can only be caught in Max Raid Battles. Max Raid Battles can become even more fun when the player connects with friends to battle together via Nintendo Switch Online
[2]
. If three other Trainers aren't available to participate in Max Raid Battles, support Trainers will automatically be added to the player's team to help battle the wild Dynamax Pokémon.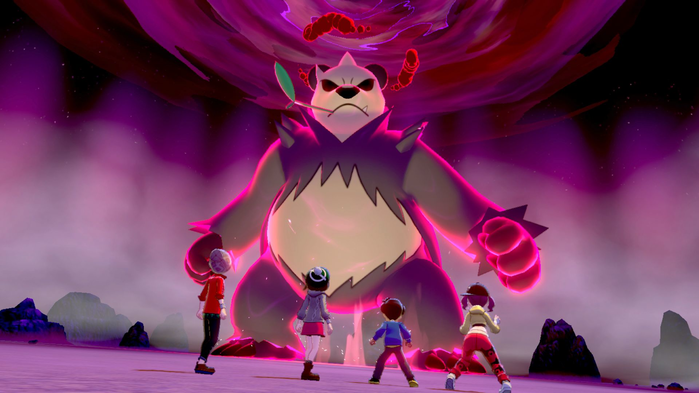 Starter Pokémon - Sword and Shield
Grookey, Scorbunny, and Sobble are three Pokémon that players can choose to be their first partner. Newly discovered details for these Pokémon include the following.
Grookey
Category: Chimp Pokémon
Type: Grass
Height: 1′
Weight: 11 lbs.
Ability: Overgrow
The stick that Grookey holds, originally from the forest where groups of Grookey live, is imbued with special powers after being exposed to the energy within Grookey's body. Its green fur creates energy from sunlight. When Grookey drums with its stick near wilted flowers and leaves, they regain their color.
Scorbunny
Category: Rabbit Pokémon
Type: Fire
Height: 1′
Weight: 9.9 lbs.
Ability: Blaze
Scorbunny uses its powerful legs to confuse and disorient its opponents by running and jumping around them. Because the soles of its feet can become very hot, Scorbunny's kick can burn and damage opponents, too. With a sac in its chest containing viscous fire energy, Scorbunny can increase its heart rate and body temperature by running around. This awakens the true power of its fire energy and greatly increases its physical abilities.
Sobble
Category: Water Lizard Pokémon
Type: Water
Height: 1′
Weight: 8.8 lbs.
Ability: Torrent
When Sobble touches water, its body changes its pattern and color, allowing it to blend into its surroundings. A rather timid Pokémon, Sobble will secrete the water within its body like sweat and disappear into its surroundings when nervous or embarrassed. With tears that are as potent as a hundred onions, Sobble will start to bawl if it feels threatened, spreading its tears around the area and causing everyone around it to start crying uncontrollably. Sobble will then use this distraction as a chance to escape.
The Legendary Pokémon Zacian and Zamazenta
These are the Legendary Pokémon that will be featured on the packages of Pokémon Sword and Pokémon Shield. They are shrouded in mystery and are even unknown to those who live in the Galar region.
Name: Zacian
Its shining blade can cut through anything.
Zacian attacks so gracefully that its movements can even captivate its opponents. It holds what appears to be a sword in its mouth.
Name: Zamazenta
Its gleaming shield can turn back any attack.
Zamazenta's regal and majestic movements overwhelm any opponents that dare face it. Its body is covered in what seems to be a shield.
Pokémon Camp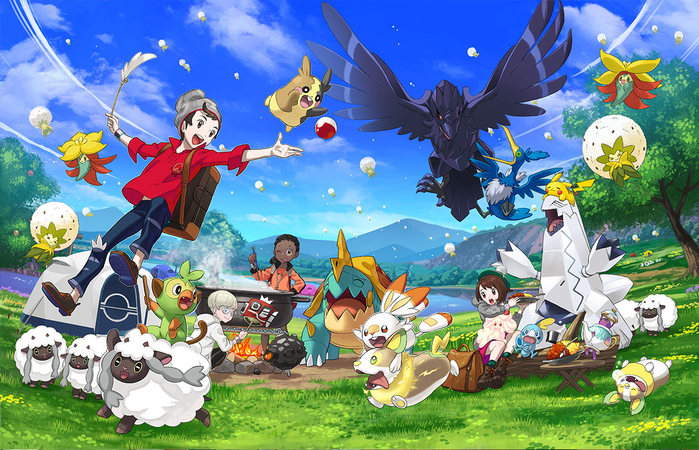 You can enjoy a Pokémon Camp almost anywhere anytime you're exploring in the Galar region! If you ever feel like spending some time with the Pokémon in your party or cooking up a nice meal with them, then there's no need to hesitate—in many cases, you can just set up camp right then and there!
Become friendly with lots of Pokémon
You can enjoy a moment of relaxation and fun with the Pokémon in your party through Pokémon Camp! Watch your Pokémon closely as they have fun camping, and as they play together, you might discover a new side to them that you don't normally get to see!
Just give a call to any Pokémon that's far away, and it'll happily come to you!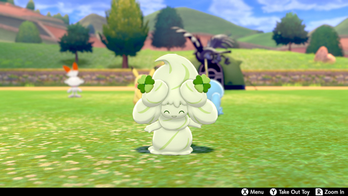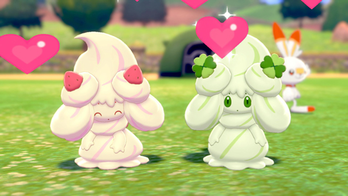 You can also play with your Pokémon while camping. There are several toys that your Pokémon will enjoy—you can play with them using a Poké Toy or a variety of bouncing balls! Take some time to play with your Pokémon and get to know them better!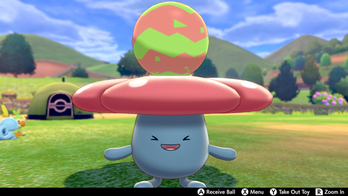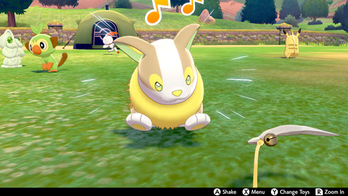 About the different appearances of Alcremie
Alcremie is known to be able to create whipped cream from its hands. Apparently, there are several variations of color and flavor for this whipped cream, as well as the decorations on Alcremie's body.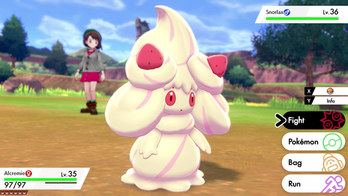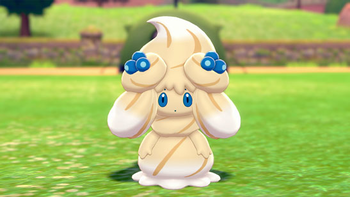 Make curry on rice, the dish that's all the rage in Galar!
In your Pokémon Camp, you'll be able to make wondrous curries that are hugely popular in the Galar region! Curry is a dish with tons of variety. You can create curries of many different flavors depending on which ingredients and Berries you choose to add to your pot! Pour your heart into cooking and create a delicious plate of curry!
The first step to cooking up some curry is choosing the ingredients you want to add. The type of curry you'll make will change depending on what ingredients and Berries you choose to put in.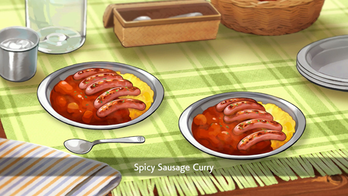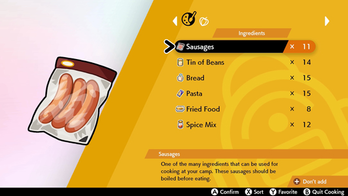 You'll need to fan the flames until they're strong enough and then stir the pot just right to make the best batch of curry!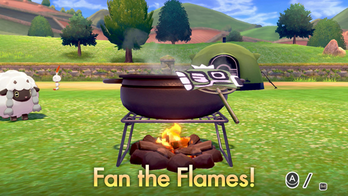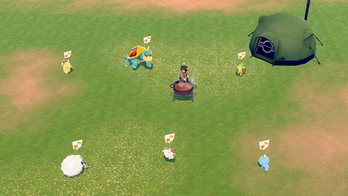 Once you're done cooking, you and your Pokémon can dig in together! The ingredients you choose change the type of curry you'll end up with. There are plenty of types of curry, so try to cook them all and complete your Curry Dex!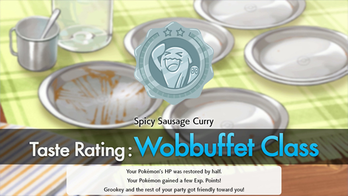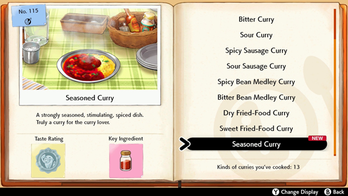 Stop by Pokémon Camps set up by other players
The Wild Area is a vast expanse of open land in the Galar region. There are lots of different ways to connect with other players in the Wild Area, and Pokémon Camps are just one example! You can join the camp of another player or have other players visit your own camp until a total of four players are gathered to interact with Pokémon or make some curry!
If you come across a tent while using local communication or when connected to the internet, it's a sign that another player has set up their Pokémon Camp there. You can take one of your party Pokémon with you, so why not have a look and join their camp! Membership in the Nintendo Switch Online (paid) service is required for joining other players' Pokémon Camps using an internet connection. You do not need to be have a membership to play with other players using local communication features.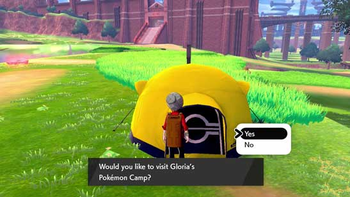 When camping with other players, you can let your Pokémon play with their Pokémon, or you can cook up a big pot of curry and enjoy it together!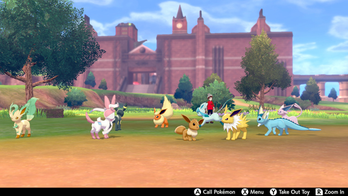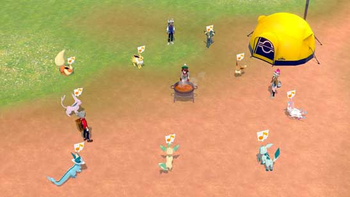 League Card
Pokémon Trainers in the Galar region make League Cards for themselves. These cards provide detailed information about the Trainer, and they are traded and given out across the region! As a Trainer, you also have your own League Card! You can use the Card Maker function of Rotomi to customize your card until you hit a design you're happy with!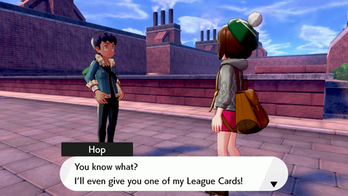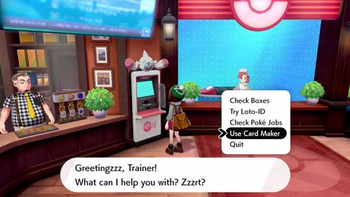 The Card Maker will give you a lot of freedom in editing your League Card—you'll be able to change the background, the frame, your expression, your pose, and more!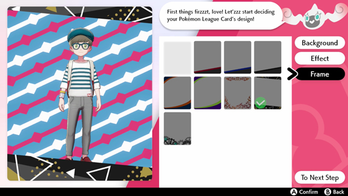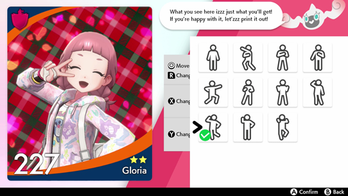 You can trade League Cards with other players, and League Cards are displayed during Link Battles, too. Make one that's really unique! You'll be able to check all the League Cards you've received from others in your album.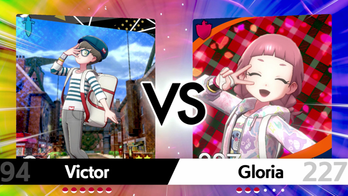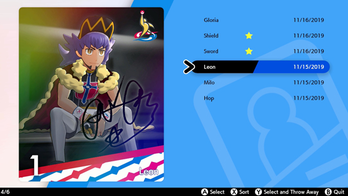 Clothes and Hairdo Styles
As you travel, you'll come across boutiques and hair salons. By visiting them, you can buy new clothes for yourself or change your hairstyle to freshen things up! There are plenty of different clothing items, hairstyles, and even makeup options, so try out different combinations and show the entire Galar region your favorite look!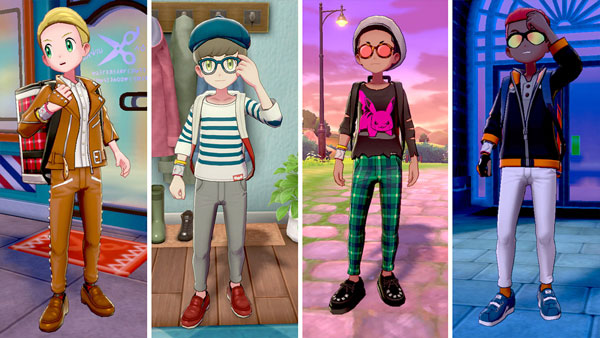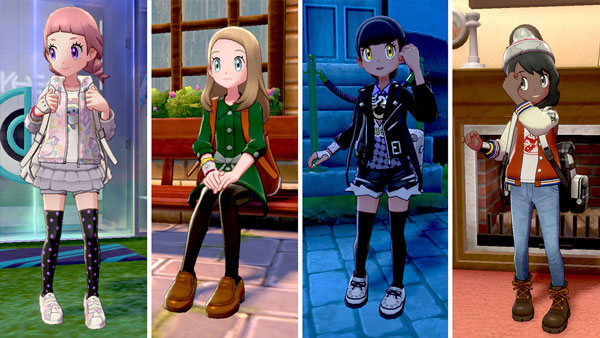 Find the clothes you want at boutiques
Boutiques always have a wide selection of items, and they'll be your go-to spots for trying on and buying new clothes. Boutiques can have outerwear, tops, gloves—you name it! You can mix and match styles in any way you want. Boutiques in different towns and cities have different items for sale, so keep your eyes open for that perfect outfit while you travel.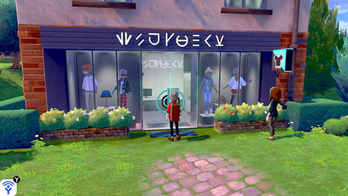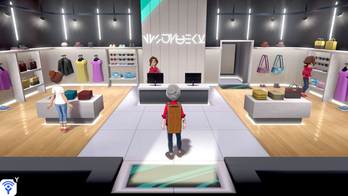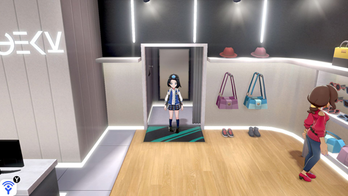 Head to a hair salon to get a haircut and a new look
Salons let you choose your haircut and hair color, style your eyebrows, or even swap out your color contacts! Spice up your adventure by changing your look to match your favorite outfit or the uniform you wear during your Gym Challenge!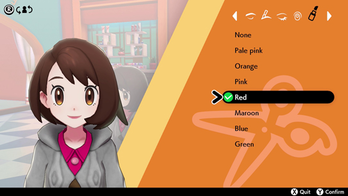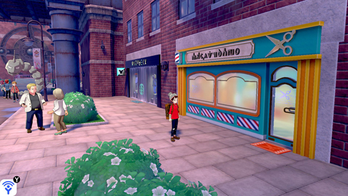 Trading Pokémon is easy with Surprise Trades—you just never know who you might trade with!
In these games, you can use Y-Comm to do things like trade Pokémon and have Link Battles via the internet or local communication. If you see a stamp pop up during your adventure, it might be a sign that another player is looking for somebody to connect with! You'll be able to trade and have Link Battles with friends by checking these stamps, but they can also be invitations from people you've never met before!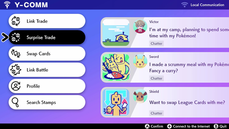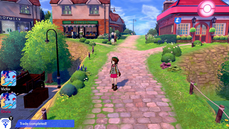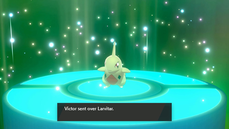 One of the features available on the Y-Comm menu is the Surprise Trade. Select a Pokémon from your Boxes that you're willing to trade, and that's it! A trading partner will automatically be found as you continue on your adventure!
The game will keep trying to match you with a trading partner even as you engage in the Pokémon battles or other activities you'll find while exploring Galar, so there's no need for you to hunt for a trading partner or feel like you're left waiting!
These trades can be carried out with players from around the world if you're using the internet. But with local communication, you can even get a trade from someone around you before you know what's happening! Head out to lots of different places, and see if you can get a Surprise Trade! You won't know what Pokémon you'll get in exchange for your Pokémon until you actually receive it. If you're lucky, you might end up with a rare Pokémon.
Membership in the Nintendo Switch Online (paid) service is required to participate in Link Trades and Link Battles using the internet. There's no need to set up a membership for local communication use.
Patches:
Version 1.1.0 Updates (January 9, 2020):
Adds a button to purchase the Pokémon Sword/Shield Expansion Pass. This button can be found on the game menu. Press the button to purchase the Expansion Pass on the Nintendo eShop.
New event added. Head over to Wedgehurst Station to check out the new event.
Fixes a bug that causes Sucker Punch or Quash to not hit when there is only one opponent Pokémon.
Galarian Slowpoke added
Fixes a bug that causes the game to lock if you have taught certain Pokémon many TM/TR moves and then go to the Move Relearner.
Various Bug Fixes
Version 1.1.1 Updates (March 17, 2020):
Fixed several issues to improve gameplay experience.
Version 1.2.0 Updates (June 16, 2020):
Part 1, The Isle of Armor, has been released as downloadable content
Additional Pokémon now appear

Even without purchasing an Expansion Pass, customers can use network connections to play and have additional Pokémon appear.

Link Codes are now 8-digits long

Link Codes used in the Y-Comm or set for Max Raid Battles are now 8 digits instead of 4.

Battle regulation marks

Pokémon carried over from other regions via Pokémon HOME can now participate in online competitions and ranked battles. A battle regulation mark can be replaced on the Pokémon at the Battle Tower in order to participate in online competitions and ranked battles.
Please check game news for more information.

Addressed issue with online battles

We've fixed an issue with online battles where the battle results could be arbitrarily invalidated.

Additional updated content

In addition, various issues were addressed to create a more enjoyable gaming experience.
Version 1.2.1 Updates (July 7, 2020):
A bug in regards to the number of digits for password settings has been fixed.

In regards to the passwords that can be set for Y-Comm and Max Raid Battles, we fixed the bug where players could be matched with others whose passwords were not coinciding.

Other updated content

We fixed several other issues to improve game play experience.
Version 1.3.0 Updates (October 22, 2020):
Expansion Pass Part 2, The Crown Tundra, has been released as downloadable content

Customers who have purchased the Pokémon Sword Expansion Pass or Pokémon Shield Expansion Pass can now explore The Crown Tundra

Additional Pokémon now appear

Even if you have not purchased the expansion pass, you can find additional Pokémon through online gameplay.

Other updates

Fixed a number of issues so that gameplay is more enjoyable.
Version 1.3.1 Updates (December 21, 2020):
Fixed some issues for a better gameplay experience.
Version 1.3.2 Updates (May 11, 2021):
Fixed the issue where some Pokémon icons were not properly displaying during online or local wireless battles.
Several issues have been fixed to improve gameplay experience.
Features:
A whole new region full of never-before-seen Pokémon. Embark on a new journey as a Pokémon Trainer. Unravel the mystery behind the Legendary Pokémon Zacian and Zamazenta!
Experience the Dynamax phenomenon! Catch, battle, and trade Pokémon on a new journey in the Galar region. Choose from three new partner Pokémon and encounter never-before-seen Pokémon
Unravel the mystery behind the Legendary Pokémon Zacian and Zamazenta! Players can control the camera in the vast Wild Area. Team up with other Trainers to participate in Max Raid Battles!
There's more to being a champion than honing your battle skills: you can pick your own clothes and get a new hairdo while visiting the stores in town.
Screenshots:
---
This page has been viewed 2334 times.
Last updated 12 May 2021 18:23 by Sunain.
Revision #6