ポケモンレンジャー 光の軌跡
Pokémon Ranger: Paths of Light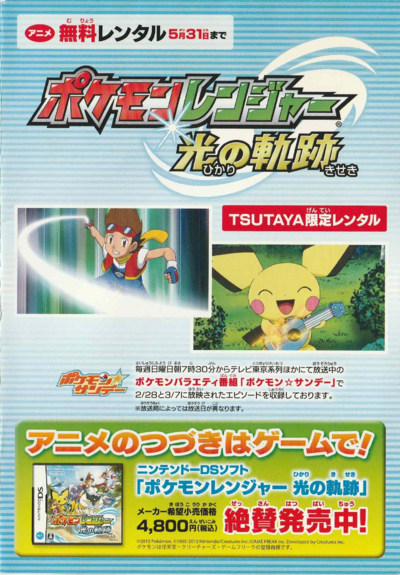 Details
Audio Tracks:
Japanese
Publisher:
ShoPro
Catalog #:
Release Date:
2010-04-23
Aspect Ratio:
16:9
Region Code:
Video Format:
NTSC
Storage Medium:
DVD5
Closed Captions?:
No
Rental Only?:
Yes
Price:
Description
5月31日(月)までの期間、テレビ東京系列で好評放映中のポケモン情報バラエティ「ポケモン☆サンデー」で放送されたアニメ『ポケモンレンジャー 光の軌跡』のDVDが、全国のTSUTAYAで無料レンタルできるぞ!
Available from April 23rd till May 31st at participating TSUTAYA locations, Pokémon Ranger: Paths of Light originally aired as short segments during Pokémon Sunday.
Disc contains the full, uncut Japanese widescreen version of the short along with promotional videos for the Pokémon Ranger: Paths of Light video game and the Pokémon Card Game.
Note that the original short that aired on Pokémon Sunday was cropped to 4:3 for the broadcast. This disc contains the full widescreen version. The widescreen version was also available on TV Tokyo's website for a limited time.
A press release PDF was also released for this DVD
.
Images