Pokémon: Zoroark - Master of Illusions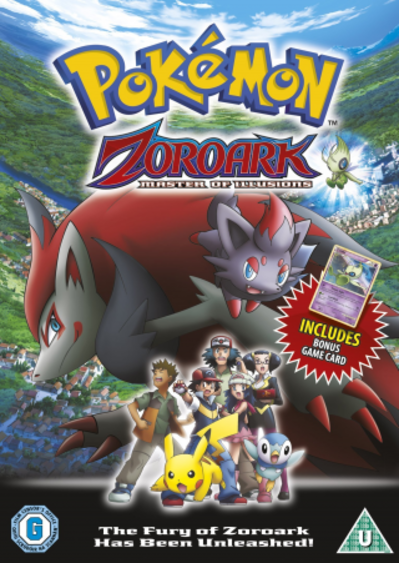 Details
Audio Tracks:
English
Publisher:
Universal Pictures UK
Catalog #:
8284462
Release Date:
2011-08-29
Aspect Ratio:
16:9
Region Code:
Video Format:
PAL
Storage Medium:
DVD9
Closed Captions?:
No
Rental Only?:
No
Price:
Description
As Ash and his friends journey to Crown City to join the crowds watching the Pokémon Baccer World Cup, mysterious forces are in motion that could bring untold misfortune to them all! What secrets does Zorua, a Pokémon they befriend along the way, hide? Why is the powerful Zoroark rampaging through the city, and what does the appearance of the Legendary Pokémon Raikous, Entei, & Suicune mean? What has brought Celebi back to the city at this precise moment in time for the first time in 20 years? And what will happen when the paths of all of them come together in one time and place?
The thirteenth anime film in the POKEMON series, ZOROARK – MASTER OF ILLUSIONS features the usual blend of magic and adventure. They visit Crown City to view the POKEMON Baccer World Cup but find the ZOROARK begins to attack with Raikou, Entei and Suicine thrown into the mix. Ash, Brock and Dawn help Zorua save ZOROARK and show Grings Kodai for the evil person he is.
Includes a bonus Celebi Pokémon Trading Card.
Images