Pokémon: Heroes / Pokémon: Destiny Deoxys (Miramax Double Feature)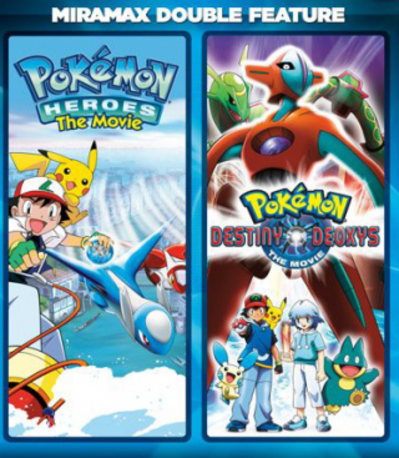 Details
Audio Tracks:
English
Publisher:
Echo Bridge Home Entertainment
Catalog #:
9600902001
Release Date:
2011-05-15
Aspect Ratio:
16:9
Region Code:
Video Format:
NTSC
Storage Medium:
BD25
Closed Captions?:
No
Rental Only?:
No
Price:
Description
Pokémon: Heroes
All the action-packed excitement you experienced in the movie theater comes home in this dazzling full-length motion picture that introduces Latios and Latias—two brand-new Pokémon stars who possess remarkable powers. Join them, along with all your favorite characters, on the greatest Pokémon adventure ever. In a magical water city of canals and mazes, Ash, Pikachu and the rest of the gang face off against a slick pair of thieves who plan to steal an awesome and dangerous jewel guarded by Latios and Latias. To save the city from total destruction, our heroes must defeat the evil duo and overcome impossible obstacles...but time is running out.
Pokémon: Destiny Deoxys
Leap into an amazing, all-new, action-packed movie and meet the mysterious Deoxys as this exciting Pokémon adventure takes you beyond your wildest imagination. Four years ago a strange meteorite crashed to Earth carrying a powerful secret. Now journey to the high-tech Larousse City where secrets are revealed as Ash, Pikachu and the gang meet Tory—a new friend who is afraid of Pokémon and their trainers. New fears surface when a mysterious aurora appears over the city along with Deoxys—a Pokémon unlike any seen before. When a spectacular battle between Deoxys and Rayquaza begins, more than just Ash and Pikachu will be needed to stop it—it will take everyone.
Images