Pokémon Donjon Mystère: Explorateurs du Temps et de l'Ombre
Pokémon Mystery Dungeon: Explorers of Time & Darkness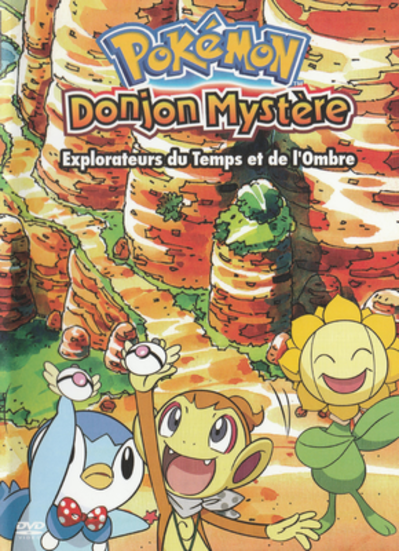 Details
Audio Tracks:
French
Publisher:
Arès-Films
Catalog #:
3760113362422
Release Date:
2009-04-06
Aspect Ratio:
4:3
Region Code:
Video Format:
PAL
Storage Medium:
DVD5
Closed Captions?:
No
Rental Only?:
No
Price:
Description
Re-release
A special feature included on the DVD titled: The Fabulous World of Pokémon (Le monde fabuleux des Pokémon) is a 51 minute documentary overview of the franchise in France by Jean Pierre D'armont and Fredric Paradiso.
Un Ouisticram peu sûr de lui dont le rêve est de devenir membre d'une équipe d'exploration. un tiplouf évanoui sur une plage.
Quand Ousticram trébuche sur ce dernier, la formation de l'équipe Poképotes n'est plus qu'une question de temps ! Accompagné de son nouvel amio qui prétend être un humain transformé en Pokémon, Ousticram trouve enfin le courage d'aller voir le sage Grodoudou et sa Guilde pour essayer de percer ce mystère.
Images