劇場版ポケットモンスター みんなの物語 (完全生産限定盤)
Gekijouban Pocket Monsters Minna no monogatari (Kanzen Seisan Gentei-ban)
Theatrical Edition Pocket Monsters Everyone's Story (Limited Edition)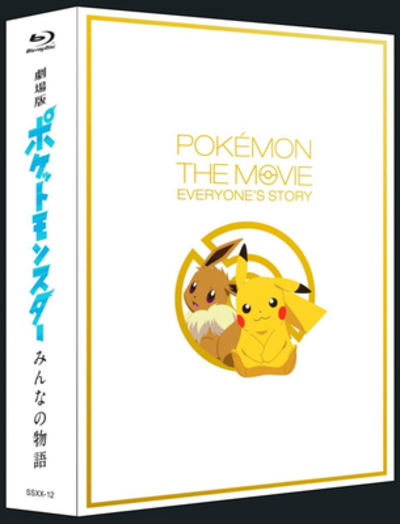 Details
Audio Tracks:
Japanese
Publisher:
Shogakukan
Catalog #:
SSXX-12
Release Date:
2018-12-19
Aspect Ratio:
16:9
Region Code:
Video Format:
NTSC
Storage Medium:
BD25
Closed Captions?:
Yes
Rental Only?:
No
Price:
Description
Limited Edition Includes:
[1] Special outer case
[2] Original Pouch
[3] Special Big Sized Post Card Set (10 Sheet Cards)
[4] Making of the Movie Special Booklet (B6 Sized)
Special Features: Creditless intro, setting materials, idea sketches, trailers, and more
Once a year, a "wind festival" is held in Fura City, the city where people live together with the wind. On the final day of the festival, the legendary Pokémon Lugia will appear and give the people the blessed wind, a promise said to date back to the distant past.
Lisa, the highschooler and Pokémon rookie. Kagachi, the braggart that just can't stop telling tall tales. Trito, the timid researcher that lacks confidence. Hisui, the old eccentric that hates Pokémon. Largo, the mysterious little girl that hangs around in the forest all by herself.
While they're participating in the festival, Satoshi and Pikachu meets these five companions by pure coincidence. Each of them has their own worries on their mind, and are unable to take a step forward together with their partner Pokémon, but when they meet each other, the cogs of destiny start turning......
Will the promise with Lugia be kept? And just what is the true identity of the mythical Pokémon Zeraora?? Everyone's friendship, both people's and Pokémon's, will now cause a miracle to occur.
【完全生産限定盤】
[1] スペシャルアウターケース
[2] オリジナルポーチ
[3] 特製ビッグサイズポストカードセット(10枚組)
[4] 映画メイキングスペシャルブックレット(B6変形)
 …ノンテロップOP・イラスト設定資料集・アイデアスケッチ集・イメージビジュアルギャラリー・予告編集
人とポケモンが風と共に暮らす街・フラウシティでは、1年に1度だけ開催される"風祭り"が行われていた。 祭りの最終日には伝説のポケモン・ルギアが現れて、人々に恵みの風をもたらすという約束を、昔から交わしていたという。 風祭りに参加していたサトシとピカチュウは、 フラウシティ市長の娘・ラルゴから、街とルギアが交わした約束を聞き、気持ちが高まる。 しかし街では、何者かのイタズラによって会場が荒らされ、風祭りの続行が難しくなっていた。 「50年前に山火事で死んだゼラオラの呪い」と子どもたちが噂する中、 住民とポケモンたちの復旧作業により、なんとか風祭りの続行が決定。 だが、風祭り最終日に前代未聞の大事件が勃発して・・・!? サトシとピカチュウは、ポケモン初心者の女子校生・リサ、嘘がやめられなくなってしまったホラ吹き男・カガチ、 自分に自信が持てない気弱な研究家・トリト、ポケモンを毛嫌いする変わり者のお婆さん・ヒスイ、 そしてラルゴという5人の仲間たちと"ポケモンパワー"を胸に、街の危機に立ち向かう! 果たして、フラウシティの運命は!?ルギアとの約束は守られるのか・・・!?そして幻のポケモン・ゼラオラの正体とは!?
Sales Numbers:
Week
Rank
Weekly
Copies
Total
Copies
December 17-23, 2018
15
3,311
3,311
December 24-30, 2018
Off the sales chart. 20th place only sold 874 copies, so this Blu-ray sold less than that during this week.
Images