Pokémon Der Film: Schwarz Victini und Reshiram / Weiß Victini und Zekrom
Pokémon The Movie White Victini and Zekrom / Pokémon The Movie Black Victini and Reshiram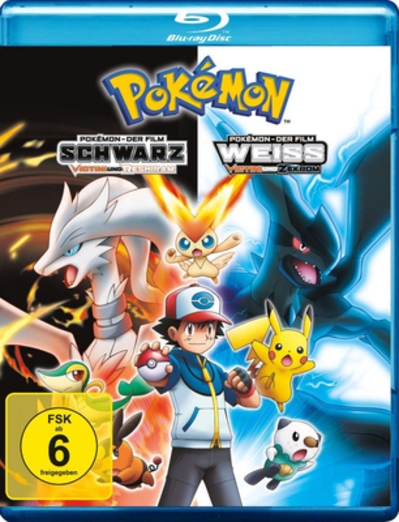 Details
Audio Tracks:
English
German
Publisher:
Polyband/WVG
Catalog #:
36623-0
Release Date:
2021-02-05
Aspect Ratio:
16:9
Region Code:
Video Format:
PAL
Storage Medium:
BD50
Closed Captions?:
No
Rental Only?:
No
Price:
Description
This disc was originally to be released on January 29th, 2021 but was delayed.
Ein Held muss sich entscheiden: die Kraft seines Wunsches… oder der Mut, der aus der Wirklichkeit erwächst?
Als Ash und seine Freunde in Eindoak Town an einem Kampfturnier teilnehmen, treffen sie auf das Mysteriöse Pokémon Victini und schließen Freundschaft mit ihm. Aber kurz darauf kommt es zur Katastrophe, als der fehlgeleitete Wanderer Damon das Victini für seine eigenen Zwecke entführt! Kann sich Ash als wahrer Held erweisen und zur Befreiung von Victini und Rettung von Eindoak Town die Unterstützung des Legendären Pokémon Reshiram – oder Zekrom – gewinnen? Dich erwarten zwei Legenden… und zwei Versionen der Geschichte! Erlebe sie beide in Pokémon – Der Film: Schwarz – Victini und Reshiram sowie Pokémon – Der Film: Weiß – Victini und Zekrom! Bist du bereit für eine doppelte Portion Pokémon Abenteuer?