Pokemon & BUMP OF CHICKEN Acacia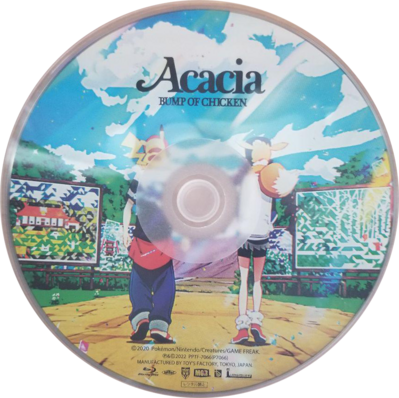 Details
Audio Tracks:
Japanese
Publisher:
BUMP OF CHICKEN
Catalog #:
Release Date:
2022-02-10
Aspect Ratio:
16:9
Region Code:
Video Format:
NTSC
Storage Medium:
BD25
Closed Captions?:
No
Rental Only?:
No
Price:
¥5,500
Description
Due to COVID-19, the lineup of Silver Jubilee GOODS that were initially going to be sold at the BUMP OF CHICKEN LIVE 2022 Silver Jubilee at Makuhari Messe February 10-11, 2022, were sold online instead on the
official BUMP OF CHICKEN website
. All items were designed by VERDY.
Items this Blu-ray was available with:
Pokemon & BUMP OF CHICKEN Acacia TEE(Blu-ray付)/BLACK¥5,500
Pokemon & BUMP OF CHICKEN Acacia TEE(Blu-ray付)/WHITE¥5,500
Pokemon & BUMP OF CHICKEN Acacia TEE(Blu-ray付)/PURPLE¥5,500
Pokemon & BUMP OF CHICKEN Acacia Hoodle(Blu-ray付)/BLACK¥8,800
Pokemon & BUMP OF CHICKEN Acacia Hoodle(Blu-ray付)/WHITE¥8,800
Pokemon & BUMP OF CHICKEN Acacia Hoodle(Blu-ray付)/PURPLE¥8,800
(Spelling Mistake Included - Hoodle / Hoodie)
Blu-ray Tracks:
01 Pokémon Special Music Video GOTCHA! (ポケモンスペシャルミュージックビデオ「GOTCHA!」)
02 Acacia from Studio Live Silver Jubilee (アカシア from Studio Live Silver Jubilee)
Images