そらとぶポケモンキッズ カラオケつきミュージックビデオ
Soratobu Pokémon Kids Karaoke Tsuki Music Video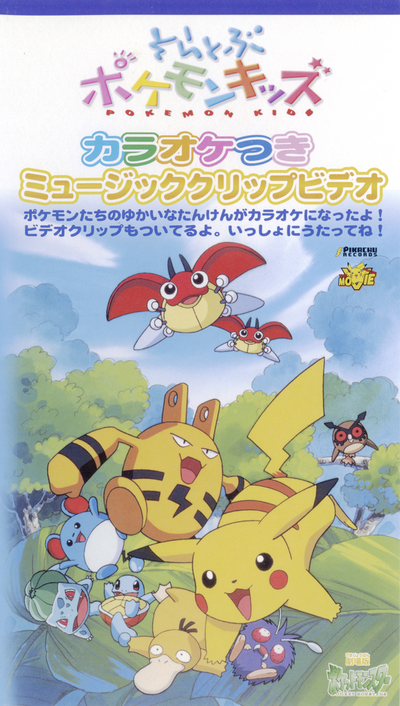 Details
Audio Tracks:
Japanese
Publisher:
Media Factory
Catalog #:
TGVS-83
Release Date:
2000-00-00
Aspect Ratio:
4:3
Region Code:
Video Format:
NTSC
Storage Medium:
VHS
Closed Captions?:
No
Rental Only?:
No
Price:
非売品 (Not For Sale)
Description
A "Not For Sale" (非売品) VHS tape. Features a full karaoke music video for "Soratobu Pokémon Kids" with on-screen lyrics, preceded by a portion of the regular vocal version.
Of significant note, there is a mixing difference in this karaoke version compared to the version found on the "
Soratobu Pokémon Kids
" CD-Single. This version retains the "la la la's" and children's backing vocals, whereas the CD karaoke is completely instrumental.
Not much information is available on this release, and quite unusually it does not have a copyright year listed on the packaging or tape, though it does mention the release date for the Lugia movie's home video at the end of the program. It might have been available through rental video outlets at one point.
If anyone has further information on this release, please contact us.