| | |
| --- | --- |
| Start/End Dates | 2015-03-07 through 2015-08-31 |
| Country | Japan |
Details
Pre-Order Ticket Arceus
From March 7th, 2015 until July 17th, 2015, patrons that pre-order a ticket for the 18th Pocket Monster movie -
Pokémon the Movie XY - The Archdjinni of Rings: Hoopa
could receive Arceus an as serial code present. The tickets could be purchased at the following participating locations: 7-11 (セブン-イレブン)、
Ito-Yokado (イトーヨーカドー)
、Aeon (イオン)、 Aeon Supercenter (イオンスーパーセンター)、
Toys"R"Us (トイザらス)
、
Apita (アピタ)
、
Piago (ピアゴ)
、
Al-Plaza (アル・プラザ)
、
Heiwado (平和堂)
、
Daiei (ダイエー)
、Fuji (フジ)、Pokémon Centers (ポケモンセンター), Pokémon Stores (ポケモンストア), and participating cinemas (一部映画館). General admission is 1400yen, youth admission is 800yen and a parent/child combo is 2100yen.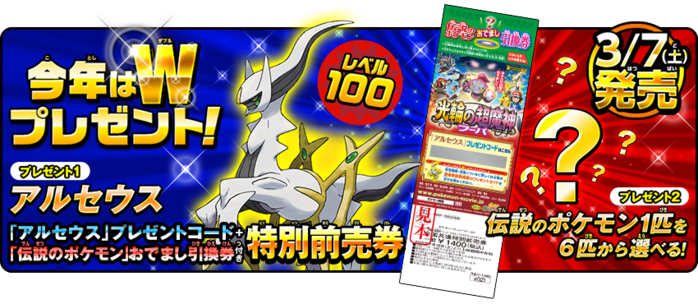 Arcues could be redeemed from March 7th, 2015 until August 31, 2015 via the serial code that was included on the ticket. Multiple Arcues codes could be used on a single cartridge but each tickets serial code can only be redeemed once. The same Arceus type could be received multiple times with difference serial codes. Arceus could be redeemed in:
Pocket Monsters X or Y
or
Pocket Monsters Omega Ruby or Alpha Sapphire
.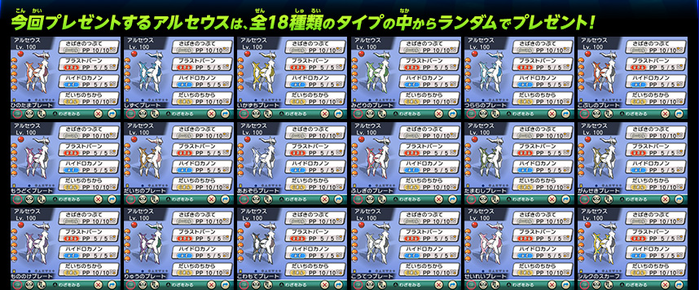 From June 20th, 2015 until August 31st, 2015, people that present their ticket at a participating retailer will also get 1 of 6 different Legendary Pokémon in addition to Arceus. Details on that distribution will be revealed on April 15th, 2015.
Source:
http://www.pokemon-movie.jp/tickets/
The official Japanese Movie 18 website updated in early March 2015 with information relating to the movie's pre-order ticket. Translations follow:
The special pre-order movie ticket giving access to a double giveaway will be on sale starting Saturday March 7th, 2015! If you purchase it at the theater you will be given a limited edition "Appear!" clear file folder!
The special pre-order movie ticket finally goes on sale Saturday March 7th!
This year we have a double giveaway! Amazingly, in addition to receiving the mythical Pokémon "Arceus", you will also receive one more legendary Pokémon! *
Look up further information on the "special pre-order ticket that includes an Arceus present code and an "Appear! Legendary Pokémon!" exchange voucher" this instant!
*The Pokémon can be received for the Nintendo 3DS games Pocket Monsters Omega Ruby/Alpha Sapphire/X/Y. The Pokémon are video game data, they are not figures, plushies, etc.
For further information, see
the ticket section on the official Pokémon Movie Website
There's more! If you purchase the special pre-order movie ticket at the theater, you will receive an "Appear! clear file folder" limited to 300 000 patrons nationwide. It's a clear file with two different images: When you remove the sheet inside the folder, the legendary Pokémon will "Appear!"
*You will receive one folder with each special pre-order movie ticket purchased (parent-child tickets come with two folders).
*This folder is not for sale. Please do not purchase one from resellers.
*Each theater has a limited number of folders. Please understand if supplies have run out.
*Please contact your local theater for further information.
Look forward to Saturday March 7th, 2015!
Source:
http://www.pokemon-movie.jp/news/?p=1541
Rocket Gang TV Commercial
A Pre-Order ticket commercial aired after Movie trailers and as a commercial on Japanese television. The commercial had Rocket Gang quickly explaining that players could get an Arceus by purchasing the ticket.
Pokémon Get TV #69(ポケモンゲット☆TV #69)
In a segment near the end of
Pokémon Get TV #69(ポケモンゲット☆TV #69)
, Shoko-tan revealed the movie details and Arceus to viewers.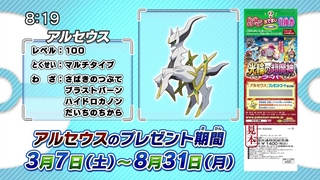 March 2015 Corocoro
The March 2015 issue of Corocoro included the details of the Movie 18 pre-order ticket campaign and it was the first place the Arceus details were revealed as pictures of the issue leaked a few days before the official movie site updated.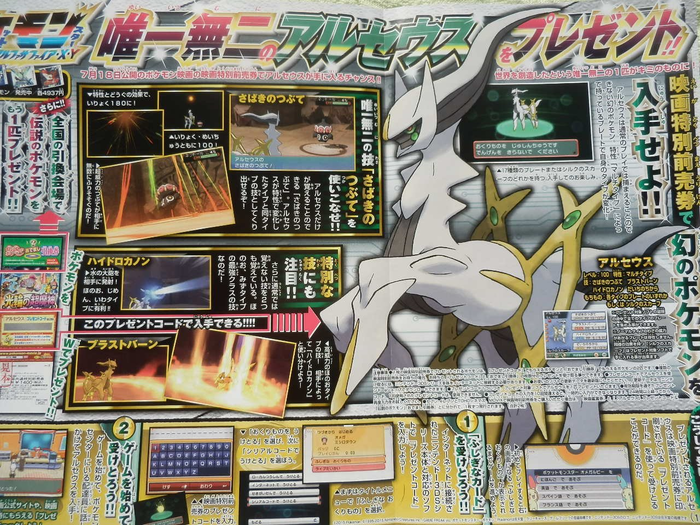 Oha Suta - March 4th to 6th and March 11th to 13th, 2015
Six short segments aired on Oha Suta on March 4th to 6th and March 11th to 13th, 2015. Each day they discussed something about Arceus to the viewers.
On the March 6th, 2015 episode they showed Arceus, talked about the ticket and showed
Judgment
in action. The official Pocket Monsters Movie Twitter account also put out a
special tweet to advertise this episode
.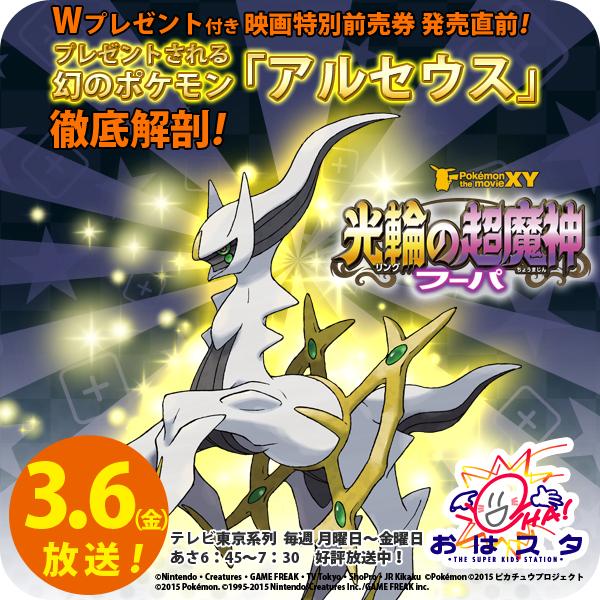 Neji Sasakiyuki (ねじ・佐々木ユーキ) hosted the Oha Suta Segment on March 11th, 2015 and talked about the Water Type Arceus with Waterdrop Plate (しずくプレート) while showing its effectiveness against Groudon in a very quick 1 move battle.
On the March 12th, 2015 episode,
Yamamoto
hosted the segment and explained that there was 18 different Arceus.
On the March 13th, 2015 episode, MAEDA208 hosted the segment and dressed up as Satoshi.
Yamamoto
had a pre-written task for him: Have a match against Oha Girl Saya, who's new at Pokemon games. If you win, you'll get to join the Pokémon division. However, Saya will be using the mythical Pokemon Arceus (ポケモンガーム初心者のおはガール・さやと対戦し勝利したら入部を認めるただしさやは幻のポケモン「アルセウス」を使用). MAEDA208 battled against Oha Girl Saya (さや) but was 1-hit KO'd by Judgement.
Pokémon Get TV 76
In
Pokémon Get TV 76
, Yukito and Robin head to 7-Eleven, asking if the viewers had
received their event Arceus yet
. Robin says he's there to receive it today and the two of them explain how it's done. Yukito shows the special pre-order ticket and present guide you need to purchase first and Robin adds that you then need to take your X/Y/OR/AS game to a place where you can connect to the Internet. Yukito says the 7-Spot in all 7-Eleven can be used for this, which is very handy, since you can get the Arceus right after buying the ticket. To get the Arceus, you then just choose Mystery Gift from the title menu, enter the present code found on your ticket, start the game and talk to the woman in blue at the Pokémon Center to receive your Arceus. Very easy. The Arceus is level 100 and knows the move Judgment, which only it can learn.
Identification
| | |
| --- | --- |
| Pokéball: | Cherish Ball |
| Species: | Arceus |
| Nickname: | None |
| OT Name: | デセルシティ |
| Level: | 100 |
| Gender: | Male |
| Ability: | Multitype |
| Nature: | Random |
| Shiny: | Unknown |
| Ribbons: | |