| | |
| --- | --- |
| Start/End Dates | 2016-02-01 through 2016-05-31 |
| Country | United States |
Details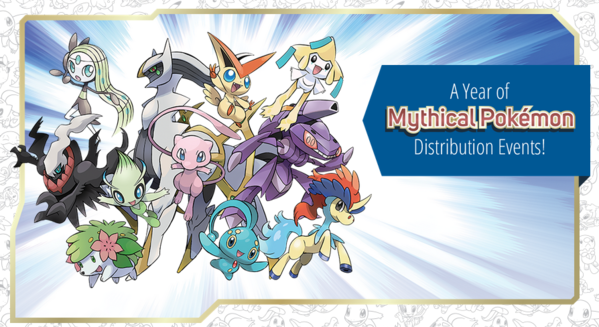 Throughout 2016 to celebrate the 20th Anniversary of the Pokémon games, a Mythical Pokémon Distribution Event took place each at participating merchants across North America. Players of
Pokémon X, Y
,
Omega Ruby or Alpha Sapphire
were eligible to receive these Pokémon.
Pokémon: Mew
Type: Psychic
Ability: Synchronize
Moves: Pound
Distribution Location: GameStop
Distribution Dates: February 1st - February 24th, 2016
Distribution Type: Serial Code

Kick off the Pokémon 20th celebration with the Mythical Pokémon Mew! Mew was the first Mythical Pokémon to be discovered—obtained in the original Pokémon Red and Pokémon Blue games. Mew now returns in much the same way as it appeared for players nearly 20 years ago. Don't miss this chance to get the very first Mythical Pokémon once again!

The Mythical Pokémon Mew will be available at participating GameStop stores starting February 1, 2016. Visit GameStop to pick up a code that will unlock Mew in your Pokémon Omega Ruby, Pokémon Alpha Sapphire, Pokémon X, or Pokémon Y game. Be sure to redeem your code in your game by May 31, 2016!
Source:
http://www.pokemon20.com/en-us/mythical.html
GameStop Flyer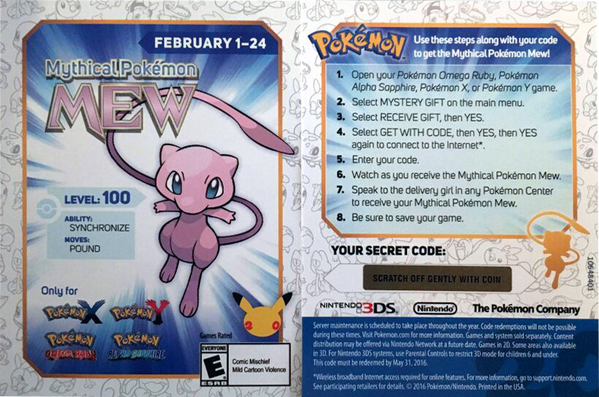 Identification
| | |
| --- | --- |
| Pokéball: | Cherish Ball |
| Species: | Mew |
| Nickname: | None |
| OT Name: | GF |
| Level: | 100 |
| Gender: | Male |
| Ability: | Synchronize |
| Nature: | Random |
| Shiny: | Unknown |
| Ribbons: | |