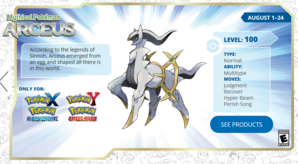 Pokémon: Arceus
Type: Normal
Ability: Multitype
Moves: Judgment, Recover, Hyper Beam, Perish Song
Distribution Location: GameStop
Distribution Dates: August 1st - August 24th, 2016
Distribution Type: Serial Code

Visit participating GameStop stores to get a code that will unlock the Mythical Pokémon Arceus in your game! Arceus originally appeared in Pokémon Diamond and Pokémon Pearl. Arceus can become any Pokémon type while holding a corresponding Plate, which can be discovered in various locations across Hoenn in Pokémon Omega Ruby and Pokémon Alpha Sapphire.

The Mythical Pokémon Arceus will be available at participating GameStop stores starting August 1, 2016. Visit GameStop to pick up a code that will unlock Arceus in your Pokémon Omega Ruby, Pokémon Alpha Sapphire, Pokémon X, or Pokémon Y game. Be sure to redeem your code in your game by November 30, 2016!