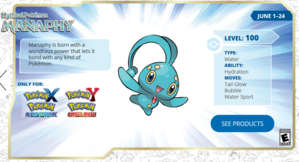 Pokémon: Manaphy
Type: Water
Ability: Hydration
Moves: Tail Glow, Bubble, Water Sport
Distribution Location: Nintendo Network
Distribution Dates: June 1st - June 24th, 2016
Distribution Type: Wi-Fi

Don't miss this chance to get the Mythical Pokémon Manaphy as part of the Pokémon 20th celebration! Manaphy could originally be obtained in Pokémon Diamond and Pokémon Pearl, but its Egg first had to be obtained in the Nintendo DS game Pokémon Ranger. Now you can get this extremely rare Pokémon via a Nintendo Network event!

Receive Manaphy via Nintendo Network beginning June 1, 2016, for your Pokémon Omega Ruby, Pokémon Alpha Sapphire, Pokémon X, or Pokémon Y game. The Pokémon will be available only until June 24, 2016, so don't miss this opportunity!