| | |
| --- | --- |
| Start/End Dates | 2010-06-18 through 2010-07-14 |
| Country | Japan |
Details
To promote the upcoming 13th Pocket Monsters movie,
The Ruler of Illusions Zoroark (幻影の覇者 ゾロアーク)
, the official Japanese Pokémon website announced a download event. Goon's Hassam (グーンのハッサム) was available for free to the public from
June 18th, 2010 to July 14th, 2010
. Goon is one of Kōdai's bodyguards and one of the key men in the 13th movie.
Player of the Japanese version of Pokémon Diamond, Pearl, Platinum, HeartGold and SoulSilver can download the Hassam off of Nintendo Wi-Fi Connection, DS stations or Nintendo Zone locations such as McDonald's.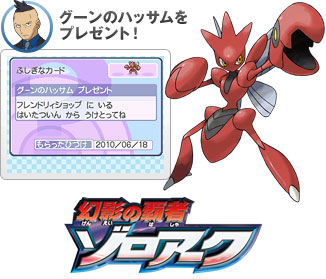 Identification
| | |
| --- | --- |
| Pokéball: | Cherish Ball |
| Species: | Scizor |
| Nickname: | ハッサム |
| OT Name: | グ-ン |
| Level: | 50 |
| Gender: | Male |
| Ability: | Swarm |
| Nature: | Adamant |
| Shiny: | Unknown |
| Ribbons: | |