| | |
| --- | --- |
| Start/End Dates | 2011-02-01 through 2011-03-03 |
| Country | France |
Details
If this Celebi is transferred to Pokémon Black and White via the Transfer Machine, it will allow players to get a Zorua in Castelia City. The Celebi was distributed at participating Micromania, FNAC and GAME stores in France.
Press Release - Celebi Portion
Inédit ! Tous les joueurs des versions Or HeartGold, Argent SoulSilver, Platine, Diamant et Perle vont pouvoir récupérer dès le 1er février le Pokémon rarissime Celebi ! Celebi sera disponible uniquement en téléchargement en magasin.
Nintendo.fr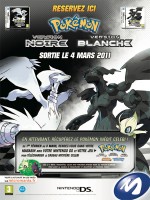 Click on image for higher resolution
Identification
| | |
| --- | --- |
| Pokéball: | Cherish Ball |
| Species: | Celebi |
| Nickname: | CELEBI |
| OT Name: | HVR2011 |
| Level: | 50 |
| Gender: | Male |
| Ability: | Natural Cure |
| Nature: | Lonely |
| Shiny: | Unknown |
| Ribbons: | |