| | |
| --- | --- |
| Start/End Dates | 2011-06-17 through 2011-09-08 |
| Country | Japan |
Details
To promote the movies
Victini and the Light Hero - Reshiram / Victini and the Dark Hero - Zekrom (ビクティニと白き英雄レシラム / ビクティニと黒き英雄ゼクロム)
, Carlita's Sazandora (カリータのサザンドラ) & Janta's Golugh (ジャンタのゴルーグ) were distributed at McDonald's and via Nintendo Wi-Fi Connection in Japan.
The Pokémon were distributed at participating McDonald's locations wireless from
June 17th, 2011 until July 7th, 2011
and then on Nintendo Wi-Fi Connection from from
July 8th, 2011 until September 8th, 2011
. Players that had Pokémon Black could download Carlita's Sazandora while players of Pokémon White could download Janta's Golugh.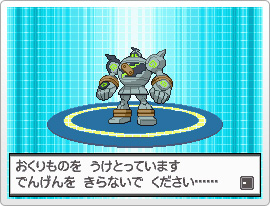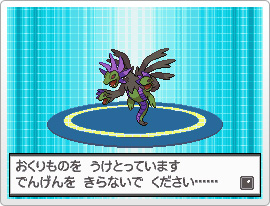 Identification
| | |
| --- | --- |
| Pokéball: | Cherish Ball |
| Species: | Hydreigon |
| Nickname: | サザンドラ |
| OT Name: | カリータ |
| Level: | 70 |
| Gender: | Male |
| Ability: | Levitate |
| Nature: | Lonely |
| Shiny: | Unknown |
| Ribbons: | |