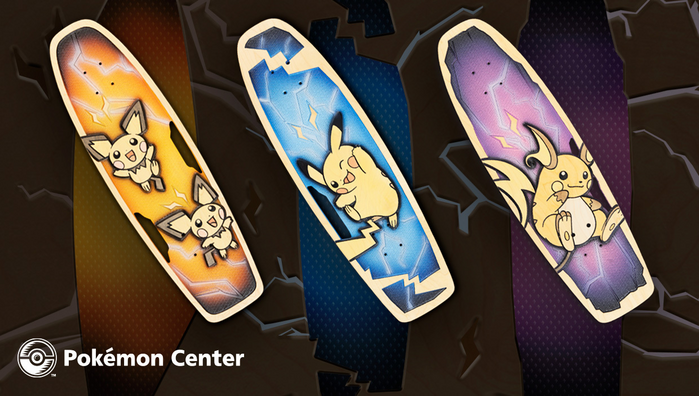 Custom print Pokémon skateboards from Bear Walker are coming soon to the Pokémon Center in the United Kingdom. This electrifying series of decks feature Pichu, Pikachu and Raichu, with more drops coming throughout 2023.
High resolution pictures from the press release have been added to an Imageboard thread
.
BEAR WALKER TEAMS UP WITH POKÉMON CENTER UK FOR NEW SKATEBOARD COLLABORATION
Exclusive New Deck Designs to Be Released Throughout 2023
London, United Kingdom — 13 Feb. 2023 — The Pokémon Company International today announced an exciting new collaboration coming soon exclusively to Pokémon Center in the United Kingdom. Starting 3 March 2023, a new series of limited edition, Pokémon-themed skateboards from skateboard industry craftsman Bear Walker will be released, starting with decks featuring the Electric-type Pokémon Pichu, Pikachu and Raichu.
Following the European debut of Bear Walker's signature designs at the Pokémon Center Pop-Up Store at the 2022 Pokémon World Championships in London last August, Bear Walker brings his expert craftsmanship and brand-new, unique designs to their new home at PokemonCenter.co.uk, the premier online destination for premium Pokémon merchandise in the U.K. The collection of custom skateboards featuring popular Pokémon from the iconic entertainment brand will be available exclusively beginning 3 March, with more drops coming throughout 2023.
The unique Pichu, Pikachu and Raichu decks feature intricate designs representing the popular Pokémon with electrifying and vivid artwork, and each comes with two wall mounts that allow fans to hang their boards as stunning decorative displays. Limited to just 250 units of each design available to purchase, the skateboard decks ship with numbered cards to ensure each is unique.
"Pokémon is a huge brand, and it's an honour to finally bring my decks to fans in the U.K.," Bear Walker said. "I was lucky enough to meet some of the U.K. fan community when I visited the 2022 Pokémon World Championships last year, so I wanted to really deliver on new deck designs that fans will love. A lot of passion and time goes into each and every deck I work on, and I hope they'll resonate with fans and become their new favourites. I'm thrilled to be able to bring my custom style to Pokémon Center U.K., and I can't wait for fans to see my other designs coming later in 2023."
"Working alongside Bear Walker has been a wonderful collaboration for the past few years, as his expert craftsmanship and love of the brand really combine to make something special that fans love," said Cindy Ruppenthal, director of e-commerce at The Pokémon Company International. "We're so excited to have his beautiful deck designs available for new fans on Pokémon Center U.K. and look forward to continuing this creative partnership throughout the exciting year ahead."
Fans can now visit the Pokémon Center × Bear Walker hub on PokemonCenter.co.uk to learn more and sign up to receive updates about the skateboard decks, including availability leading up to launch. Fans can also follow the official Pokémon social accounts at @PokemonNewsUK or @BearWalkerOfficial on Instagram for additional updates.
Source:
https://pokemon.gamespress.com/BEAR-WALKER-TEAMS-UP-WITH-POKEMON-CENTER-UK-FOR-NEW-SKATEBOARD-COLLABO