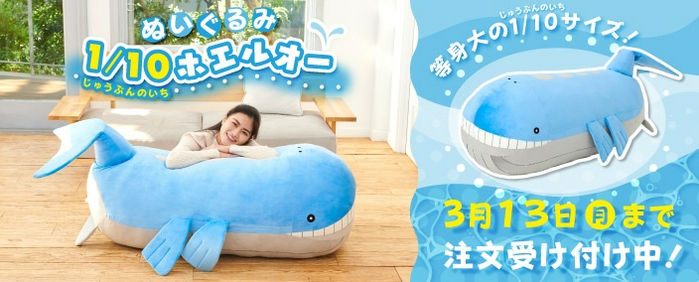 A 1/10th scale plushie of Wailord is available to pre-order at the Pokémon Center Online for 49,500 yen (tax included), the Pokémon Center for $420 USD and the Pokémon Center UK for £419.99.
High resolution pictures of the plushie have been added to an Imageboard thread
.
Big. Blue. Buddy. Strap in for adventure on the high seas—or in your living room—and have a whale of a time with this massively massive Wailord plush! Measuring about 57 ¾ inches long, or about 1/10th the size of an actual Wailord in the Pokémon video games and animation, it makes a huge impression no matter where it goes.
Product Details:
Price:
49,500 yen (tax included) / £419.99 / $420 USD / $546.99 CND
Product Code:
4521329379487 / SKU: 701E10076
Pre-Order Period:
February 17th, 2023 at 10:00 until March 13th, 2023 at 23:59 JST
Shipment Date:
Early August 2023 Japan / November 2023 USA/Canada
Size & Weight:
60×145×55cm - 6,500g / 57 ¾ inches (4 ¾ feet) long
Material:
Polyester / EVA / polyurethane foam
Country of origin:
Vietnam / China
Sources:
https://www.pokemoncenter-online.com/?p_cd=4521329379487
,
https://www.pokemoncenter.com/product/701E10076/wailord-poke-plush-57-in
and
https://www.pokemoncenter.com/en-gb/product/701E10076/wailord-poke-plush-57-in
Last edited 17 Feb 2023 11:43 AM by
ForumBot