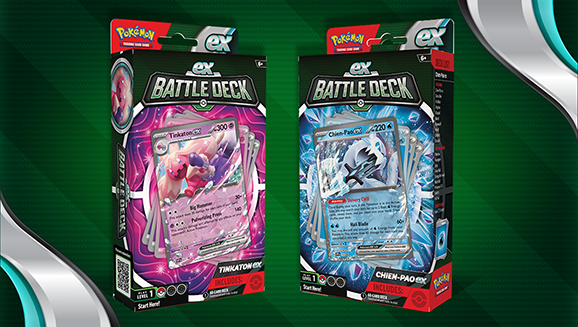 The Pokémon TCG: Tinkaton ex Battle Deck and Chien-Pao ex Battle Deck will be available at the Pokémon Center and where Pokémon TCG products are sold on July 14th, 2023.
Pokémon TCG: Tinkaton ex Battle Deck & Chien-Pao ex Battle Deck
Powerful Pokémon ex are ready to charge onto the battlefield in the new Pokémon TCG: ex Battle Decks! Build up your hand size and swing the momentum of battle with Tinkaton ex and its Big Hammer attack, which does 30 damage for each card in your hand. If you prefer to slice through your opponent's defenses instead of bludgeoning them, look no further than Chien-Pao ex's Hail Blade attack, which does 60 damage for each Water Energy card you discard from any of your Pokémon.
Each of these sets contains a full 60-card deck—led by either Tinkaton ex or Chien-Pao ex—and it's ready to play right out of the box. You'll also get a variety of accessories to enhance your game such as a playmat, damage counters, a metallic coin, and more. No matter which you choose, you'll be taking the first step to unlocking the power of these Pokémon ex. Let the battle begin!
Each Pokémon TCG: Tinkaton ex Battle Deck and Chien-Pao ex Battle Deck includes:
1 ready-to-play 60-card deck
3 reference cards
1 rules booklet
Single-player playmat
Damage counters
1 large metallic coin
1 deck box
1 strategy sheet
A code card for Pokémon TCG Live
Source:
https://www.pokemon.com/us/pokemon-tcg/product-gallery/tinkaton-ex-battle-deck-chien-pao-ex-battle-deck/