The official Pokémon website has announced details about the upcoming English TCG expansion Dark Explorers. The expansion will be released on
May 9th, 2012
and will consist of over 100 cards. Below are the details.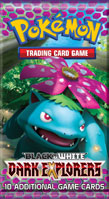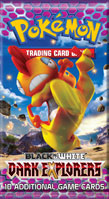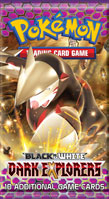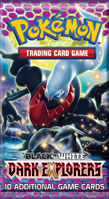 Pokémon TCG: Black and White — Dark Explorers
As you explore the darkness, the Pokémon TCG: Black and White — Dark Explorers expansion ushers in the return of the immensely powerful Darkrai-EX and a lineup of Darkness-type Pokémon, like Zoroark, Umbreon, and Sableye, to knock your opponent's lights out! Playing with Trainer cards like Dark Patch, included in the expansion to help give Darkness-type decks an edge you'll not only navigate the darkness, you'll rule it!
The fifth Pokémon TCG: Black and White expansion also continues an impressive run of featuring Unova and non-Unova region Pokémon-EX cards, more powerful Pokémon that deliver devastating attacks to your opponents. Darkrai-EX is joined by Tornadus-EX, Kyogre-EX, Raikou-EX, and Groudon-EX, all featured as Pokémon-EX cards and rare Ultra full-art Pokémon-EX cards!
Key features of the new Pokémon TCG: Black & White—Dark Explorers expansion includes:
Six more Pokémon-EX from the Unova region and beyond
New strategies for Darkness-type Pokémon
More than 100 cards, including three Shiny Secret rare cards
More Restored Pokémon options
First Eevee cards since the Pokémon TCG: HS—Undaunted
Parallel foil card guaranteed in each booster pack
Each new theme deck and booster pack includes an in-pack code card that unlocks virtual cards for play in the Pokémon Trading Card Game Online. Expand your personal deck and battle against others from around the world!
Source:
http://www.pokemon.com/us/pokemon-trading-card-game/bw_series/bw5/
Theme Decks
Two theme decks were also revealed but not too much information was revealed about them. One appears to be based on Zoroark while the other is based off of Cofagrigus.
Yahoo Kids has revealed the first three Dark Explorers cards.
The cards have been added to our TCG dex
. Click on the card images for more information.