Title: Hong Kong XY Anime Debut, Charizard Distribution / Australia...
A new news article has been posted!
---
The Pocket Monsters XY (寵物小精靈XY) anime series will debut in Hong Kong on July 13th, 2014 on
TVB Jade
in Cantonese. The free-to-air channel will simultaneously broadcast the show in HD and SD. The series will also be available on the Internet at
myTV
. The series will also being airing in Taiwan on August 3rd, 2014 on
Eastern Television (ETTV)
.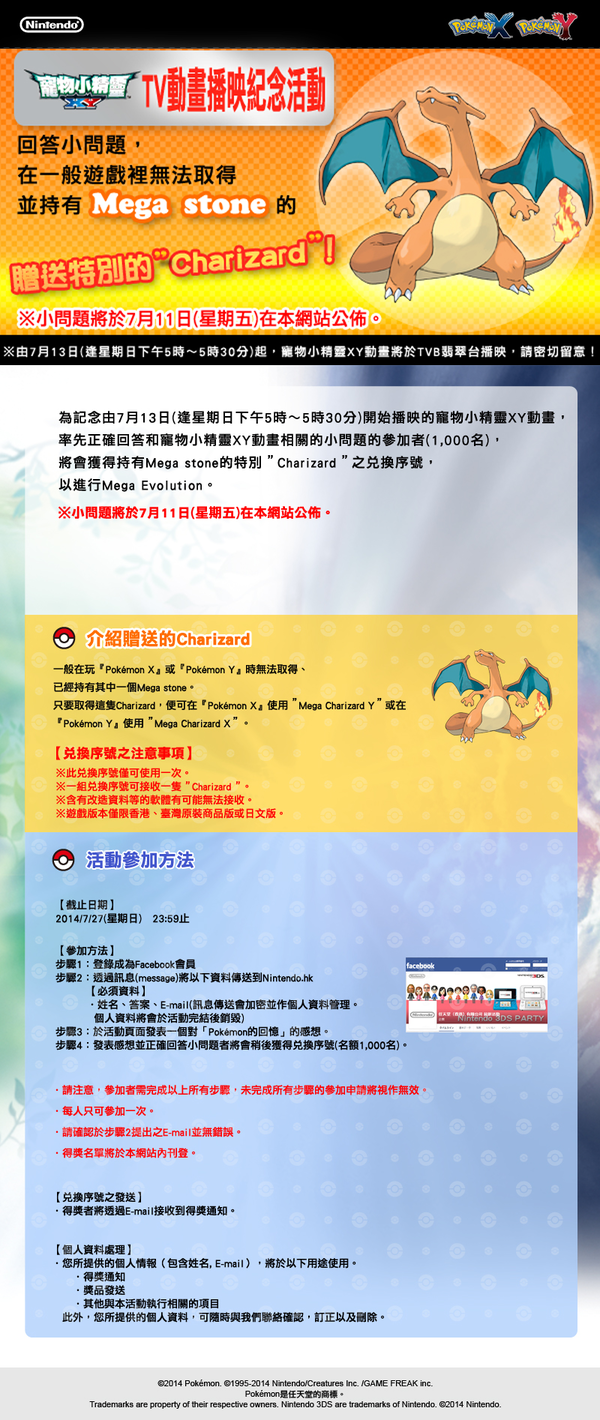 To promote the series debut in Hong Kong, Nintendo is going to distribute 1000 Charizard's holding a Mega Stone to those that correctly answer a quiz. Nintendo Hong Kong will post the quiz on July 11th, 2014 and it will be holding a Charizardite appropriate for the players game version.
Participants that wish to enter the lottery need to:
Login to their Facebook Account
Send a message to Nintendo.hk with their name, quiz answer and e-mail address
Participants need to also post something about Pokémon on the Nintendo.hk Facebook page
Only 1000 people will receive the serial code that follow those steps
The event ends on July 27th, 2014 at 23:59 and people will be informed via the email address they submit in they have won.
Source:
http://www.nintendo.com.hk/event/pokemon_event_2014summer.htm
Australian Nationals Shiny Mamoswine Distribution
The official Australian Nationals website has updated to add information about a Shiny Mamoswine distribution. This is the same Mamoswine that is
being distributed at National Championships
around the world.
At the 2013 Pokémon World Championships, Arash Ommati led an epic team to victory to become World Champion. Now you can add a Mamoswine to your game based on one of the stars from his winning party! This Lv. 50 Shiny Mamoswine is built to do massive damage with four devastating attacks—Icicle Spear, Earthquake, Icicle Crash, and Rock Slide. It is also holding a Choice Scarf to help make up for Mamoswine's relatively slow speed.
Everyone who attends the Pokémon Video Game Australian National Championships can get Mamoswine—not just the competitors. Be sure to bring your Nintendo 2DS or Nintendo 3DS console and copy of Pokémon X or Pokémon Y. Look for signs at the Melbourne Town Hall for more details on how to get Arash's Mamoswine! Source:
http://gamesites.nintendo.com.au/pokemon-video-game-championships/#shiny