A new news article has been posted!
---
The official Pokémon movie website has updated the movie blog and "Celebrity Pokémon Fans' "I Choose You"". Translations follow:
Celebrity Pokémon Fans' "I Choose You" #11: Asami Konno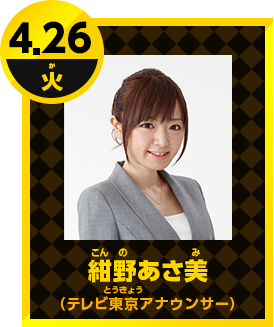 I just love the way it looks. The rabbit-like ears, the circular eyes, the fluffy fur around the neck... It's just way too cute. It's also really awesome how it can evolve into many different Pokémon.
Nyarth's Pokémon Elections Diary #11: My Public Promise...
I sometimes think about the near future,
about what comes after I've won the "Pokémon Elections 720".
Once I've won...
I'll let you stroke me in PokéParler to your heart's content.
I promise you that stroking me will make you feel all warm and fuzzy inside.
This is my public promise to you all!!
What? You're telling me to promise to
evolve
from being stroked?
Only Nymphia does that kind of nonsense!
Ooow!
Nymphia-chan just slapped me!
Once you want to evolve someone, just plain leveling them up will always be the superior method!
That aside, send in a vote for me!
Sources:
http://www.pokemon-movie.jp/election/comment.php
and
http://www.pokemon-movie.jp/pokemovie_ch/?p=2005