A new news article has been posted!
---
The official Pokémon movie website has updated. Translations follow:
Celebrating the Movie's Premiere! Legend/Legend Collaborative Artwork!!
"Mewtwo Strikes Back Evolution" finally premieres Friday July 12th!
To celebrate this return of the legend itself, legendary manga artists and celebrities that love Pokémon
have drawn pictures based on "Mewtwo Strikes Back Evolution"!
These pictures will be posted on
Corocoro Online
, where they will be presented alongside comments from the authors on a weekly basis,
starting today, June 7th, with a picture by Ryoji Minagawa.
The pictures will also be posted on the official Pokémon movie Twitter account alongside a countdown to the movie's premiere.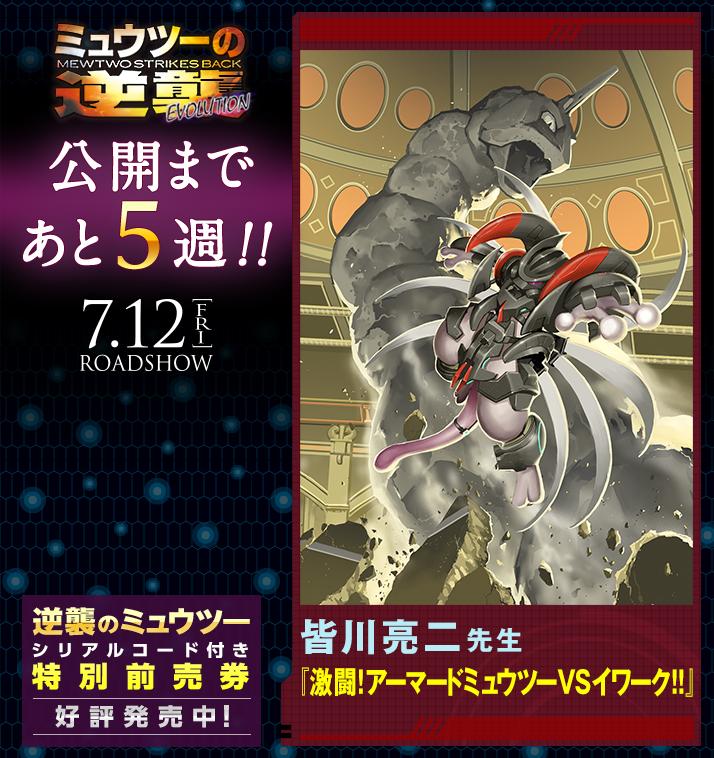 And who are these unbelievably amazing authors that will be drawing these pictures...?
*Friday June 7th:
The author of "ARMS", "Spriggan" and "Kaio Dante", as well as secretly a huge Pokémon fan:
Ryoji Minagawa
Artwork theme: "A Fierce Battle! Armored Mewtwo VS Iwark!!"
*Friday June 14th:
The rookie who won the right to write the "Mewtwo Strikes Back Evolution Comicalization" and "Pocket Monsters: Mewtwo! I Am Here" manga for the Corocoro Comic magazines due to their love for Pokémon:
Machito Gomi
Artwork theme: "All Present! Satoshi, Kasumi, Takeshi and the Pokémon!!"
*Friday June 21st:
The author of "Pocket Monsters Corocoro Ver." and the first ever Pokémon manga creator:
Kosaku Anakubo
Artwork theme: "A Rebirth Transcending Time! That One Legendary Pokémon!"
*Friday June 28th:
The legendary Corocoro manga artist himself; the author of "Gakkyu-o Yamazaki" and "Croket":
Manavu Kashimoto
Artwork theme: "Bringing You the Start of the Story! The Kairyu Mailman!"
*Friday July 5th:
He constantly draws intense battles and exciting adventures - "Pocket Monsters Special"'s very own
Satoshi Yamamoto
Artwork theme: "The Strongest VS The Atrocious!! Mewtwo VS Gyarados!"
*Friday July 12th:
The one and only
Mine Yoshizaki
, creator of "Sgt. Frog", will be writing a truly intence piece about Pokémon!!
Artwork theme: "The Shocking Duo! Pikachu and Copy Pikachu"
*Friday July 19th:
The singer of the movie's theme song, "Kaze to issho ni"! Pokénchi's custodian
Shoko Nakagawa
Artwork theme: "Shokotan's Choice! Memorable Movie Scenes"
Click here to check out the Corocoro Online page:

Source:
https://www.pokemon-movie.jp/news/?p=3651