The official Japanese Pokémon Card Game website has announced a new High-class pack set called
VMAX Climax (VMAXクライマックス)
which will be released on December 3rd, 2021. The set features full art
CSR (Character Super Rare)
remake cards which will certainly be popular with fans and collectors.

CSR (Character Super Rare) - Red:
Red, a trainer from the Kanto Region, is standing proudly in the middle of a battle. Even in the midst of battle, he never loses his cool, and his dignified appearance seems to indicate his strong will and pride.
CHR (Character Rare) - Kamitsure, Gym Leader of Raimon City
Kamitsure, the gym leader of Raimon City in the Isshu region, is reflected in the mirror with Mokoko. Perhaps she's getting dressed up for the mirror, but she's holding a brush in her hand, and Mokoko's expression looks happy.
CHR (Character Rare) - N
N, a trainer from the Isshu region, is riding on Zekrom's back. As they ride through the sky together, it looks as if they have a strong relationship of trust.
CHR (Character Rare) - Doctor
The Doctor is sitting at his desk behind Sirnight. The look in Sirnight's eyes is gentle, perhaps showing its appreciation for the doctor's hard work.
CHR (Character Rare) - Masaki
Masaki is scratching his head because of Eievui's behavior. His expression looks dumbfounded, but it's also smiling gently, showing that he loves Eievui's pranks.
Product Details: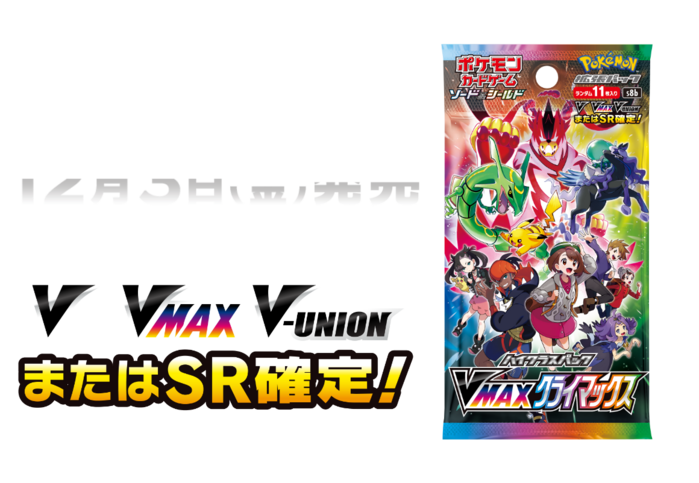 Pokémon Card Game Sword & Shield High Class Pack VMAX Climax
ポケモンカードゲーム ソード&シールド ハイクラスパック「VMAXクライマックス
Release date: December 3rd, 2021
Suggested Retail Price: 550 yen per pack (tax included)
Set includes: 11 cards per pack. Cards are included at random. A Basic Energy card is always included.
Source:
https://www.pokemon-card.com/ex/s8b/