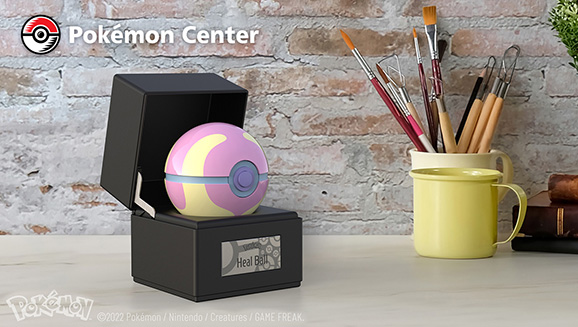 The official Pokémon website has announced that pre-orders for the The Wand Company's Heal Ball Replica are
now available
for $99.99 USD. The Heal Ball Replica is expected to ship in early April 2022, and pre-orders may be placed until April 1st, 2022.
High resolution pictures of the Heal Ball Replica have been added to an Imageboard thread
.
Preorder The Wand Company's Heal Ball Replica at the Pokémon Center
Be among the first to get this new collectible—and prepare for more stunning Poké Ball replicas later this year.
Any Pokémon fan knows how important Poké Balls are to a Trainer's success, and The Wand Company has been giving these useful items their due with its Die-Cast Poké Ball Replica Series. Four new entries in this collection are scheduled to be released throughout 2022, and you can now preorder the first of them—a Heal Ball—at the Pokémon Center. In the Pokémon video games, a Pokémon caught with a Heal Ball will have its HP fully restored and any status conditions eliminated.
In addition to the Heal Ball, you can look forward to replicas of a Friend Ball, Quick Ball, and Cherish Ball later in the year. Each of these later releases will initially launch at the Pokémon Center before arriving at other retailers one month later. Plus, to help you complete your collection, the Pokémon Center will rerelease some of The Wand Company's previous Poké Ball replicas this year, too. Look for the Premier Ball, Dusk Ball, Ultra Ball, Great Ball, and the original Poké Ball later in 2022.
These die-cast Poké Balls are premium-quality replicas that are ideal for collectors. They're highly accurate representations of the various Poké Balls featured in the Pokémon series, and they're also equipped with proximity-sensing technology that causes the Poké Ball's button to glow when it senses motion. Pressing the button will change the light color or start an illumination sequence that simulates Pokémon catching.
Each replica comes with a presentation case that's authenticated with a uniquely numbered hologram. Opening the case reveals a multicolored light display that can be controlled through a touch-sensitive metal plaque on the case's front. The set also includes a polished stainless steel ring for protecting and displaying your Poké Ball.
You can visit the Pokémon Center now to preorder your Heal Ball. Along with the other Poké Ball replicas coming in 2022, the Heal Ball will make a stunning centerpiece in any fan's Pokémon collection.
Source:
https://www.pokemon.com/us/pokemon-news/preorder-the-wand-companys-heal-ball-replica-at-the-pokemon-center/
An Accurate, Detailed Die-Cast Replica
Introduced in the Sinnoh region in the Pokémon Diamond and Pokémon Pearl video games, the Heal Ball instantly and fully heals any Pokémon caught with it. Now this useful item for Pokémon Trainers can be yours with this premium-quality replica from The Wand Company. Featuring touch- and proximity-sensing technology, the front button illuminates in response to nearby motion and becomes brighter when the Heal Ball is touched. For an extra touch of interactivity, pressing the button initiates a Pokémon-catching light sequence. This die-cast metal replica comes with an illuminated display case featuring the Pokémon logo, along with a display ring that lets you show off the Heal Ball on its own.
Includes Heal Ball, matte black display case with polished Poké Ball icon on the lid, polished stainless steel display ring (hidden in the bottom of the display case), illustrated manual, 3 AA batteries installed in the display case, and 3 AAA batteries installed inside the Heal Ball
Heal Ball measures nearly 3 inches (75 mm) in diameter—based on its actual size within the world of Pokémon
Detailed, die-cast metal shell with a high-gloss lacquer finish
Touch- and proximity-sensing technology with illumination
Can be displayed in the presentation display case or separately on the included display ring
Officially licensed by The Pokémon Company International and made by The Wand Company
Item Dimensions: 3.5 x 3.7 x 3.5 IN
Country Of Origin: Made in China
Materials: Plastic / metal / electronics
Care Instructions: Wipe clean with dry cloth.
Item Weight: 1.3 LB
SKU: 710-95610
Source:
https://www.pokemoncenter.com/product/710-95610/heal-ball-by-the-wand-company