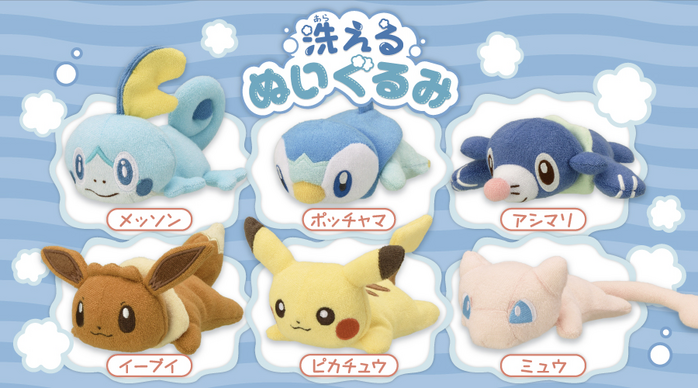 On July 23rd, 2022, Pikachu and other Pokémon will be available as
Washable Plushies (洗えるぬいぐるみ)
at the Pokémon Center! The plushies are soft to the touch, and can be washed by hand if they get dirty. The lineup includes 6 different Pokémon: Pikachu, Eievui, Mew, Pochama, Ashimari, and Messon! The Pokémon Center Online will start selling them from 10:00 a.m. on Thursday, July 21s, 2022 at 10:00 a.m.
Please note that the release of this product may be postponed or cancelled due to the situation in the production area and stores. Please be aware of this beforehand.
At the Amazon.co.jp Pokémon Store, pre-orders for these plushies will be starting on July 23rd, 2022 and sales starting on July 30th, 2022 but due to the limited number of products available, they may be sold during the pre-order period.
Plushies
Items List (English):
Washable Plushie Pikachu - 1,430 yen
Washable Plushie Eievui - 1,430 yen
Washable Plushie Mew - 1,430 yen
Washable Plushie Pochama - 1,430 yen
Washable Plushie Ashimari - 1,430 yen
Washable Plushie Messon - 1,430 yen
Items List (Japanese):
洗えるぬいぐるみ ピカチュウ 1,430円
洗えるぬいぐるみ イーブイ 1,430円
洗えるぬいぐるみ ミュウ 1,430円
洗えるぬいぐるみ ポッチャマ 1,430円
洗えるぬいぐるみ アシマリ 1,430円
洗えるぬいぐるみ メッソン 1,430円
Source:
https://www.pokemon.co.jp/goods/2022/07/220715_to01.html
Last edited 16 Jul 2022 09:08 AM by
ForumBot