心のアンテナ (Promo)
Kokoro no Antenna
Antenna Of The Heart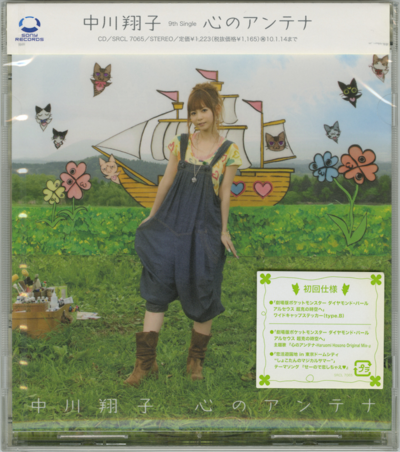 Details
| | |
| --- | --- |
| Artists: | 中川翔子 |
| Arists (Alt): | Shōko Nakagawa |
| Catalog #: | SRCL-7065 |
| Release Date: | 2009-07-15 |
| Media Type: | CD |
| Discs/Tracks: | 4 tracks on 1 disc |
| Price/MSRP: | ¥1223 (Promo) |
| Runtime: | 00:00 |
Description:
しょこたん9枚目のシングルは、作詞:松本隆、作曲:細野晴臣のネ申コンビ!!夏のポケモン映画主題歌に決定!
3月~約2ヶ月に渡る2度目の全国ツアーを無事終え、4月にリリースした2009年第一弾シングル「涙の種、笑顔の花」がオリコンランキング4位と絶好調の中川翔子。
【タイアップ
■『心のアンテナ -Haruomi Hosono Original Mix-』 … 「劇場版ポケットモンスター ダイヤモンド・パール アルセウス 超克(ちょうこく)の時空へ」主題歌
■『せーので恋しちゃえ●』(※●はハート黒塗りつぶし)・・・「恋活遊園地 in 東京ドームシティ"しょこたんのマジカルサマー"」テーマソング(7月18日~9月13日)
Promotional copy with "SAMPLE · LOANED" stamped on the inner hub mould, and a yellow numbered sticker on the OBI.
Side note: Unfortunately the copy we obtained had a piece of heavy duty tape applied over the numbered sticker on the OBI, placed by a previous owner. As such, it was not possible to remove that without significant damage to the sticker and possibly the OBI piece itself. We will update this entry if we should locate a clean copy.