극장판 포켓몬스터 정글의 아이, 코코 Original Sound Track
Pokémon the Movie Jungle Child, Coco Original Sound Track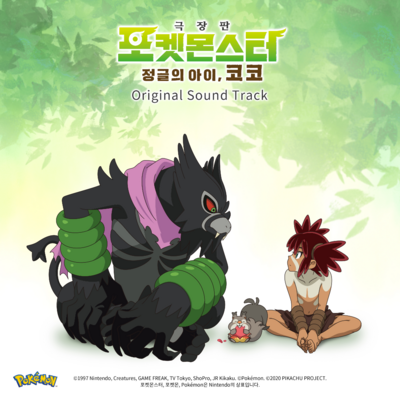 Details
| | |
| --- | --- |
| Artists | 파인 (FiNE), 박의성, 이정열, 수잔 |
| Arists (Alt) | Fine (FiNE), Kim Eui-sung, Lee Sung-yeol, Susan |
| Catalog # | 20419244 |
| Release Date | 2021-09-06 |
| Media Type | Digital |
| Discs/Tracks | 8 tracks |
| Price/MSRP | ₩7920 |
| Runtime | 22:16 |
| Composer | Joo-Hyun Yoon, Chang-Guk Choi, Wook Kim, Jung-A Kim (윤주현, 최창국, 김욱, 김정아) |
| Arranger | Joo-Hyun Yoon, Chang-Guk Choi, Wook Kim, Jung-A Kim (윤주현, 최창국, 김욱, 김정아) |
| Producer | Kim Jung-ah (김정아) |
| Lyrics | Yoon Joo-hyun, Kim Na-young, Kim Wook (윤주현, 김나영, 김욱) |
| Mixer | Chanyong Um (엄찬용) |
| Mastering | Dojeonghoe (도정회) |
Description:
The global sensation Pokémon celebrates its 25th anniversary in 2021! The 23rd movie, Pokémon Jungle Child, Coco OST album is released!
The story of Coco, a boy who grows up in the hands of a Pokémon and he believes that he is a Pokémon. He becomes friends a human boy Jiu and his partner Pokémon Pikachu, who first meets him and begins a new adventure.
An exciting adventure unfolds in the Pokémon's paradise 'Pride Forest'! The music, which tells the story of the special friendship between humans and Pokemon, makes the film more touching.
글로벌 메가히트 콘텐츠 '포켓몬스터'가 25주년을 맞이하는 2021년! 23번째 극장판 포켓몬스터 「정글의 아이, 코코」 OST 앨범 출시!
포켓몬의 손에서 자라 자신이 포켓몬이라고 믿는 소년 '코코'가 처음 만나게 된 인간 소년 '지우'와 파트너 포켓몬 '피카츄'의 친구가 되면서 새로운 모험을 시작하게 되는 이야기
포켓몬들의 낙원 '자부숲'에서 펼쳐지는 신나는 모험! 인간과 포켓몬 사이의 특별한 우정이 담긴 스토리를 고스란히 담아낸 음악이 영화의 감동을 더욱 돋보이게 한다.
Singers:
1. 정글의 아이 - FiNE (파인)
2. 원더랜드 -
Kim Eui-sung (박의성)
3. 마음의 노래 -
Lee Sung-yeol (이정열)
4. 여행의 끝에서 - Susan (수잔)
5. 정글의 아이 (Inst.) - FiNE (파인)
6. 원더랜드 (Inst.) -
Kim Eui-sung (박의성)
7. 마음의 노래 (Inst.) -
Lee Sung-yeol (이정열)
8. 여행의 끝에서 (Inst.) - Susan (수잔)