Description:
Pokémon Rumble World (
Everyone's Pokémon Scramble
みんなのポケモンスクランブル) is the second Pokémon Rumble game for the Nintendo 3DS. It is a downloadable game for Nintendo 3DS family of systems that is packed with Pokémon that players can battle and befriend, even Mega-Evolving Pokémon can join the battles.
As a
Freemium
game, players download and play the game for free but there are also options to purchase paid content that help players progress through the game a little easier such as extra play time. There is a limit to how many levels players can go through for free without taking a play restricted break.
A retail packaged Nintendo 3DS cart version of
Everyone's Pokémon Scramble
was announced on October 2nd, 2015 and was released in Japan on November 19th, 2015. Until that point, the game was only available as a free download off the Nintendo eShop. The retail version included 3000 PokéDiamonds for use at the beginning of the game and the PokéDiamond Digger could be accessed. Save data between the retail and download versions of the game are not compatible.
Story/Information:
The story is set in the Kingdom of Toys and starts with the player's character being summoned to see the king. He greets the player's Personal Mii and explains his frustration at having only one Pikachu. He explains that a mysterious magician that has ten Pokémon and he wants to have more as king so he asks for the players to get eleven Pokémon to show that magician up. The player takes the role of the hero, accompanied by the king's very own Pikachu and departs from Castle Town via a hot-air balloon to get to different areas where wild Toy Pokémon await!
During their adventure, players are challenged to befriend and collect as many Pokémon as possible and are rewarded with an increase to their Adventurer Rank. As the player's Adventurer Rank goes up, the in-game shop offers more items and the stages feature stronger Pokémon.
Players' Mii characters can also appear in their game, as well as the Mii characters of players they pass. Players can enable this feature by connecting their Nintendo 3DS or 2DS system to the Internet, activating StreetPass and then Mii characters are able to visit each others game to provide mutual support in future battles.
To help their progress, players can collect Poké Diamonds. They can be exchanged for hot-air balloons rides, select clothes for Mii characters and even to re-inflate balloons faster than usual to allow the players to replay a stage. They can also be used to continue playing in a stage after a Pokémon's HP runs out. There are several ways that players can acquire Poké Diamonds: completing special challenges, receiving some at the beginning of the adventure, when speaking to visiting Mii characters who come to the castle town or a stage via StreetPass or purchasing them on the Nintendo eShop. In-game purchases of Poké Diamonds allow for quicker progress through the game. Players can choose to buy Poké Diamonds at the shop in the castle town via Nintendo eShop but it is not required to play the game.
Patches:
| | | |
| --- | --- | --- |
| Version 1.0 | April 8th, 2015 | Initial release version on the Nintendo eShop |
| Nintendo 3DS Firmware 9.7.0-25 | April 21th, 2015 | Fixes crashing issue on Nintendo 3DS XL and the New 3DS |
Features:
Free to play game allows anyone with a Nintendo 3DS to play this game.
For the first time in the Pokémon Rumble series, Pokémon and Mii characters adventure together.
All 719 species of Pokémon that have appeared in the video games up to Pokémon Omega Ruby and Pokémon Alpha Sapphire can be discovered and collected.
Mega Evolving Pokémon appear throughout the game
Screenshots: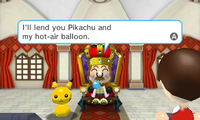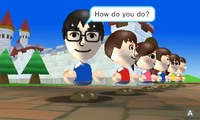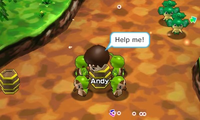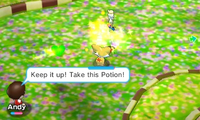 Click on images for higher resolution.
More images available on the Imageboard thread
---
This page has been viewed 8170 times.
Last updated 02 Oct 2015 07:34 by Sunain.
Revision #9