Pokémon Forever (Blu-ray)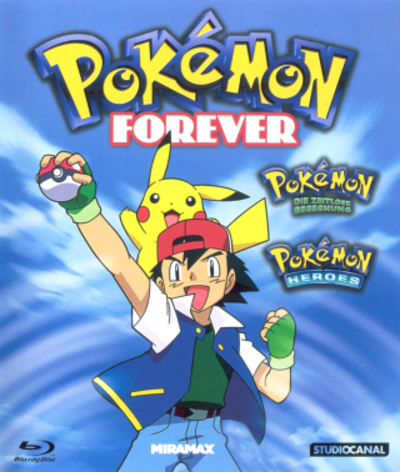 Details
Audio Tracks:
English
German
Publisher:
Miramax / Studiocanal
Catalog #:
504063
Release Date:
2012-04-05
Aspect Ratio:
16:9
Region Code:
Storage Medium:
BD50
Closed Captions?:
Yes
Rental Only?:
No
Price:
Description
Pokémon double feature containing the fourth and fifth movies. This is the first German Pokémon Bluray release.
Pokémon 4 - Die zeitlose Begegnung (Japan 2001, 78 Min., FSK 0)
Für Ash, Pikachu und die anderen Freunde beginnt eines der aufgregendsten Abenteuer ihres Lebens, als sie dem seltenen und geheimnisumwitterten Pokemon Celebi im Wald begegnen. Denn Celebi besitzt die besondere Fähigkeit, zwischen den Zeiten zu reisen. Um sich vor einem gefährlichen Pokemon-Jäger in Sicherheit zu bringen, war Celebi mit einem Jungen namens Sammy aus der Vergangenheit in die Gegenwart geflohen und ahnte nicht, dass hier ein noch erbarmungsloserer Fein lauert. Mit Hilfe spezieller Pokebälle, der "Dark Balls", verwandelt dieser die Pokemon in teuflische Kreaturen. Als Celebi gefangen genommen wird, hängt von seiner Rettung das Schicksal des ganzen Waldes ab. Die letzte Hoffnung ruht nun auf Suicune, einem mysteriösen Pokemon, das mit Ash, Pikachu und den anderen gegen das Böse kämpft...
Pokémon Heroes (Japan 2003, 77 Min., FSK 6)
Ash, Pikachu und der Rest der Gang sehen ihrer größten Herausforderung entgegen, als zwei hinterlistige Diebinnen den geheimnisvollsten und gefährlichsten aller Kristalle "Herztropfen" rauben wollen. Fällt er in ihre Hände, ist die Zerstörung der Wasserstadt Altomare unvermeidbar. Es beginnt ein atemberaubendes Rennen gegen die Zeit, bei dem die letzte Hoffung auf Latios und Latias ruht, die als Hüter des Kristalls mit magischen Kräften ausgestattet
Images