『ポケットモンスター ソード・シールド』オリジナルアニメ「薄明の翼」コレクションDVD
"Pocket Monsters Sword · Shield" Original Anime "Hakumei no Tsubasa" Collection DVD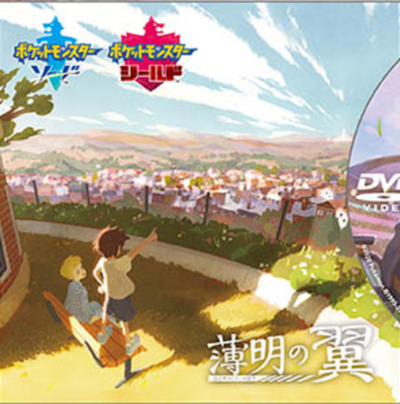 Details
Audio Tracks:
Japanese
Publisher:
Pokémon Center
Catalog #:
Release Date:
2020-12-25
Aspect Ratio:
16:9
Region Code:
Video Format:
NTSC
Storage Medium:
DVD5
Closed Captions?:
No
Rental Only?:
No
Price:
Description
From December 25th, 2020 until January 24th, 2021, patrons of the Pokémon Center and Pokémon Center Online nationwide in Japan will receive a copy of the Pocket Monsters Sword and Shield original anime Twilight Wings Collection DVD when they make purchases of 5,000 yen or more!
Pocket Monsters Sword and Shield Twilight Wings Collection DVD includes all seven episodes of the original anime and the special episode
Festival of the Stars
that are on the official Pokémon YouTube channel, as well as the original soundtrack of the songs used in the anime!
It's a very nice DVD, so get it. The giveaway ends when supplies are all gone.
Details about the audio tracks included on this DVD have been
added to an Audio database entry
.
12月25日(金)~2021年1月24日(日)の期間中、全国のポケモンセンター・ポケモンストア、ポケモンセンターオンラインで、5,000円以上(税込)お買い物をすると、『ポケットモンスター ソード・シールド』オリジナルアニメ「薄明の翼」コレクションDVDを1枚、プレゼントするよ!
『ポケットモンスター ソード・シールド』オリジナルアニメ「薄明の翼」コレクションDVDには、ポケモン公式YouTubeチャンネルで公開されている、オリジナルアニメ「薄明の翼」の全7話と、特別編となる「EXPANSION ~星の祭~」に加え、アニメの中で使われている楽曲が、オリジナルサウンドトラックとして収録されているよ! とても素敵なDVDになっているから、ぜひ、ゲットしてね。
※プレゼントは、なくなり次第、終了となります。