Description:
Blu-ray Special Limited Edition comes with a special picture label and a special case!
Main Film:
Pokémon the Movie Coco 98 minutes (With Japanese subtitles)
Bonus Features:
・ The Special Guest Stars Gather Around! Pokémon the Movie Coco Public Recording Digest
・ Creditless OP
・ Creditless ED
・ Illustration Setting Reference Materials
・ Idea Sketch Collection
・ Visual Image Gallery
・ Trailer for Pokémon the Movie: Coco
Bundled Benefits:
・ Pokémon the Movie Coco Script Reduced-size Edition (B6 variant) For the first time in the history of Pokémon movies!
・ Super Beautiful! Special Mini Clear File Set
・ Pokémon the Movie Coco Miniature Theater Pamphlet (B6 variant) Supplementary revised edition only for the Special Limited Edition
* The contents of the miniature theater pamphlet are different from the version sold at theaters, such as not including an appendix or poster.
Blu-ray 特装限定版 7,200円(税込)
ピクチャーレーベル・特別描き下ろしスペシャルケース付き!
【本編】
「劇場版ポケットモンスター ココ」98分
(バリアフリー日本語字幕/音声ガイド付き)
【特典映像】
\普段は見れない一面も!/
・豪華ゲスト声優大集合!「劇場版ポケットモンスター ココ」公開アフレコダイジェスト
・ノンテロップOP
・ノンテロップED
・イラスト設定資料集
・アイデアスケッチ集
・イメージビジュアルギャラリー
・「劇場版ポケットモンスター ココ」予告集
【同梱特典】
\ポケモン映画史上初!/
・「劇場版ポケットモンスター ココ」縮刷版シナリオ(B6変形)
\超美麗!/
・特製ミニクリアファイルセット
\特装限定版だけの増補改訂版/
・「劇場版ポケットモンスター ココ」ミニチュア劇場パンフレット(B6変形)
※ミニチュア劇場パンフレットは、付録やポスターが付属しない等、一部劇場で販売されていた当時のものと内容が異なります。
Oha Suta - July 23rd, 2021
Hiroshi Yamamoto
showed off the Limited Edition and the extras on the July 23rd, 2021 episode of
Oha Suta
and 5 lucky viewers could enter a lottery to win a copy as a present.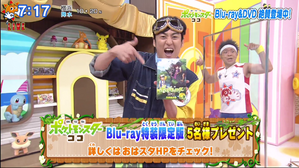 Director Tetsuo Yajima Unboxing - July 9th, 2021
A few days before the release of the Blu-ray, Director Tetsuo Yajima
posted on Twitter
an unboxing of this set. Here's what's inside! This time, the special edition comes with a small version of the script! I can't show you the contents, but it's a great read. There's also an afterword by Tomioka-san and myself at the end! Yeah. It's a must-have for fans!