Pokémon – Der Film: Geheimnisse des Dschungels
Pokémon the Movie: Secrets of the Jungle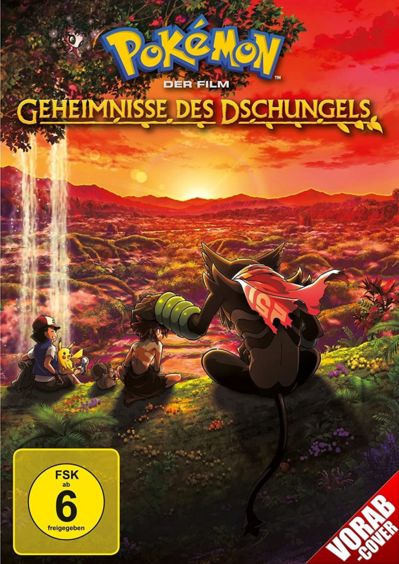 Details
Audio Tracks:
English
German
Publisher:
Polyband/WVG
Catalog #:
77149-2
Release Date:
2022-04-29
Aspect Ratio:
16:9
Region Code:
Video Format:
PAL
Storage Medium:
DVD9
Closed Captions?:
No
Rental Only?:
No
Price:
€12.99
Description
The product & marketing manager of Polyband, Matthias Süß, annouced in the "Miauz Genau" ("Meowth that's right") podcast, that the publisher saved the rights for the newest film of the "Pokémon"-series. According to Süß "Pokémon the Movie: Secrets of the Jungle" is estimated to release in April 2022 on disc.
Der Produkt & Marketing Manager von Polyband, Matthias Süß, gab im «Miauz Genau»-Podcast bekannt, dass der Publisher sich die Rechte an dem neuesten Film der «Pokémon»-Reihe gesichert hat. Laut Süß soll «Pokémon – Der Film: Geheimnisse des Dschungels» voraussichtlich im April 2022 auf Disc erscheinen.
https://www.manime.de/news/polyband-lizenziert-23-pokemon-film-weitere-staffeln/0056525/
DER NEUESTE UND 23. POKÉMON-FILM IST DIE FORTSETZUNG VON "POKÉMON: MEWTU SCHLÄGT ZURÜCK – EVOLUTION"
Auf seiner Reise treffen Ash Ketchum und sein Pikachu im Wald Okoya auf einen Jungen namens Koko, der als Kind in der Wildnis aufwuchs und vom mystischen Pokémon Zarude aufgezogen wurde. Schnell freunden sich Ash und Koko an, obwohl sich letzterer aufgrund seiner wilden Erziehung nicht für einen Menschen, sondern für ein Pokémon hält. Doch der Dschungel, in dem der unzivilisierte Junge lebt, ist in Gefahr. Denn Dr. Zed, ein machtbesessener Wissenschaftler, der eine riesige Forschungseinrichtung in der Nähe leitet, möchte bis zum großen Baum in der Mitte des Waldes vordringen – einem geschützten Ort, an dem Menschen der Zutritt eigentlich verboten ist. Mithilfe schwerer Maschinen setzt er seinen Plan dennoch in die Tat um. Während sich Zarude und die restlichen Tiere des Waldes gegen die technischen Verwüstungsmaschinen stemmen, eilen auch Ash, Koko und Pikachu zur Hilfe. Mit vereinten Kräften wollen sie den Dschungel retten und stoßen dabei auf Geheimnisse aus Kokos Vergangenheit...
Images