Pokémon - The First 3 Movies (Box Set - Disk 1)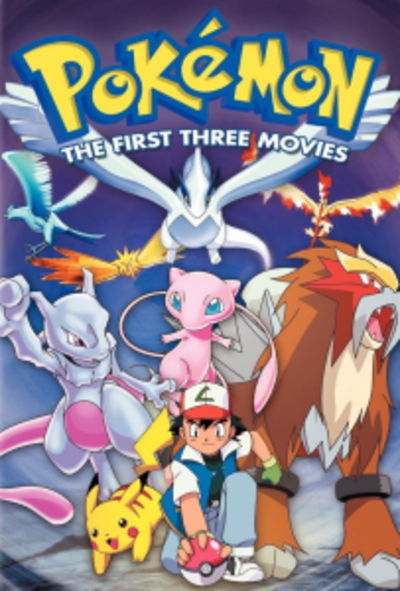 Details
Audio Tracks:
English
Publisher:
Warner Bros.
Catalog #:
3000021792
Release Date:
2009-04-07
Aspect Ratio:
4:3
Region Code:

Video Format:
NTSC
Storage Medium:
DVD5
Closed Captions?:
Yes
Rental Only?:
No
Price:
Description
You know about Pokémon. They're tiny creatures that can fit in your pocket. But that doesn't mean they don't also provide big entertainment! Ash, the world's greatest trainer/Pokémaster, plunges into adventure when cloned Pokémon seek to overrun the world in Pokémon The First Movie (Disc 1). Earth again hangs in the balance in Pokémon The Movie 2000 (Disc 2/Side A) as Ash tries to rescue the Pokémon birds that control key parts of the environment. And Ash springs into action once more in Pokémon 3 The Movie (Disc 2/Side B) when the eerie Unown wraps an orphan girl in a dreamscape prison. It's a Pokémon world. We just live in it.
Special Features:
ON ALL 3 MOVIES: Full-Screen Version
Director/Producer Commentary
Theatrical Trailer
DVD-ROM PC Enhanced Features*
POKÉMON THE FIRST MOVIE ALSO INCLUDES:
Bonus Minimovie Pikachus Vacation
The Story of Mewtwos Origin
Ash's Journey
M2Ms Don't Say You Love Me Music Video
Sneak Preview of Pokémon The Movie 2000
Subtitles: English & Français (Main Feature.Bonus Material/Trailer May Not Be Subtitled.).
Images