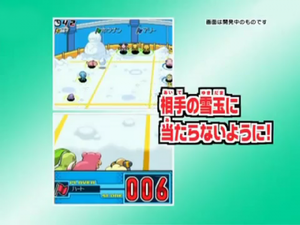 Available On:
Titles
「グラードンVSカイオーガ!(後編)」 「ポケサン新記録に挑戦「ゴルゴ所長とレッド博士が出動」 「HG・SS」を一足早くスタジオで体験!!「ポケスロン」で大盛り上がり!
Groudon VS Kyogre! (Kōhen) / PokéSun shinkiroku ni chōsen 'Golgo-shochō to Red-hakase ga shutsudō' / 'HG-SS' wo issoku hayaku studio de taiken !! 'Pokethlon' de oomori agari!
Groudon VS Kyogre! (Part Two) / PokéSun New Record Challenge 'Chief Golgo and Professor Red Dispatches' / The Studio gets to Play 'HG-SS' early! Completing the 'Pokéthlon' Many Times!
Airdates
OP/ED List
Pokémon Sunday (Version 5)

In today's episode of Pokemon Sunday, Robert was out once again getting children to compete in their PokeSun games. The kids all participated in games such as: Donphan Rollout, Hitmonlee Shoe Kick and Bottle Throwing.
No notes available for this episode.
Japanese Music:
Music Statistics:
Number of Assigned Tracks to the Japanese Original: 0
Number of Assigned Tracks to the English Dub: 0