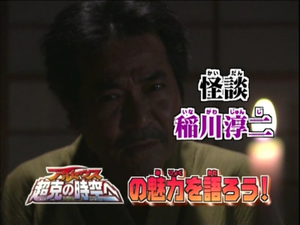 2009-08-09 ルーキーのチコリータ! 天津木村がポケモン映画詩吟 ポケモン映画を見た有名人を… Wiiウェア『ポケモンダンジョン冒険団シリーズ』の新要素をたっぷり紹介
2009-08-09 Rookie no Chicorita! / Tenshin Kimura ga Pokémon eiga shigin / Pokémon eiga wo mita yūmeijin wo... / WiiWare ' Pokémon Dungeon Bōken-dan series' no shin yōso wo tappuri shōkai
2009-08-09 The Rookie's Chicorita! / Tenshin Kimura Recites Pokémon Movie Poetry / The celebrities who saw the Pokémon movie… / A lot of new elements in the WiiWare 'Pokémon Mystery Dungeon Adventure Gang series' are introduced
OP/ED List
Pokémon Sunday (Version 5)

In today's episode of Pokemon Sunday, Robert, in the role of Faceman, checked up on some Japanese celebrities who had seen the new movie, and invited them to join the Celebrities Pokémon Daisuki Club. First up was Kimura (木村) from the comedy duo Tenshin (天津), who specialices in chanting humorous poems based off the old Chinese poetry style, and performed such a poem based on the movie. Next was Sakuji Yoshimura (吉村作治), director of the Institute of Egyptology at Waseda University, who provided some information on the ruins which were the base of the temples in the movie. Finally, Junji Inagawa (稲川淳二), famous storyteller and horror affectionado, and the host of several TV shows dedicated to ghost stories and the supernatural, did a dramatic reading of a self-written horror story based off the movie.

The rerun serial "Pokémon Selection" continued the "Interesting characters assembly" theme from last week, with today's episode focused on the baseball-obsessed Nanako and her journey to become a Pokémon trainer.

In the Pokémon Game Arena segment, we were shown gameplay footage and information on the new trio of Pokémon Mystery Dungeon games that were just released on WiiWare. Shoko Nakagawa played the game as they showed off features from them.

It was also announced that a rule for nine legendary Pokémon has been added to the 2010 Video Game Championships. Dialga, Palkia, Giratina, Mewtwo, Lugia, Ho-oh, Kyogre, Groudon and Rayquaza are now allowed on teams at the upcoming official tournament.
No notes available for this episode.
Japanese Music:
Music Statistics:
Number of Assigned Tracks to the Japanese Original: 0
Number of Assigned Tracks to the English Dub: 0