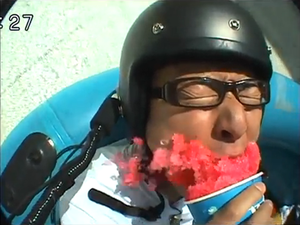 Available On:
Titles
ヒノアラシ!ゲットだぜ!! コガネシティに出没!ポケ街ック天国! ロバートがポケモンコンテストを大調査!
Hinoarashi! Get da ze!! / Kogane City ni Shutsubotsu! Pokémachic Tengoku! / Robert ga Pokémon Contest wo daichōsa!
Hinoarashi! I got it!! / Frequent Pokémachic Heaven in Kogane City! / Robert Investigates Pokémon Contests!
Airdates
OP/ED List
Pokémon Sunday (Version 5)

The crew held their own Pokémon Contest to prepare for Hikari's upcoming contest in the October 1st, 2009 airing of Diamond and Pearl.

Fist off, an appeal stage was held, where Chief Golgo, Professor Red and Director Shoko-tan were instructed to make their faces look like they had to go to the bathroom, but they were all occupied. Shoko-tan won by unanimous vote.

Robert then went to an amusement park to participate in the battle stage, where they were instructed to do combinations of different Pokémon moves. A combination of Agility and Sketch was done by drawing a picture of Pikachu while riding a roller coaster, a combination of Shadow Dive and Attract was done by making an attractive face while riding the Drop Tower (which was then combined with Encore by doing it once again), and finally a combination of Whirlpool, Bide and Ice Shard was done by eating shave ice while riding the Coffee Cups.

The rerun serial "Pokémon Selection" continued the theme "Journeys and Meetings in the Jouto Region", with today's episode featuring Satoshi catching Hinoarashi.

In Pokémon Game Arena, Shoko-tan took inspiration from the popular TV show Frequent Admatic Heaven, and showed us the 5 places in Kogane City most worth visiting, while giving a tour of them. The areas were ranked as following: 5) The Underground Path 4) The Nature Park 3) The Radio Tower 2) The Shopping Center 1) The Pokéthlon Dome
No notes available for this episode.
Japanese Music:
Music Statistics:
Number of Assigned Tracks to the Japanese Original: 0
Number of Assigned Tracks to the English Dub: 0