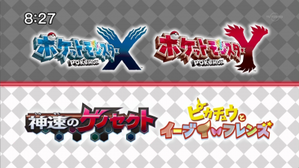 Linked Episode: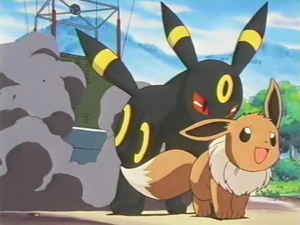 Link to Episode Guide
2013-02-17 イーブイ5しまい! おちゃかいでバトル!! / 山本隊員と馬場隊員がイーブイ秋山フレンズの謎に迫る! / 視聴者バトルはしょこたん部長 / ポケモン映画最新情報!
2013-02-17 Eievui 5 shimai! Ochakai de battle!! / Yamamoto-taiin to Baba-taiin ga Eievui Akiyama Friends no nazo ni semaru! / Shichōsha battle wa Shokotan-buchō / Pokémon eiga saishin jōhō!
2013-02-17 The 5 Eievui Sisters! Battle at the Tea Ceremony!! / Group Member Yamamoto and Group Member Baba Get Closer to Uncovering the Mystery of the Eievui Akiyama Friends! / Director Shoko-tan's Television Viewer Battle / The Latest Pokémon Movie News!
OP/ED List
Pokémon Smash (Variant 3)

No notes available for this episode.
Japanese Music:
Music Statistics:
Number of Assigned Tracks to the Japanese Original: 0
Number of Assigned Tracks to the English Dub: 0