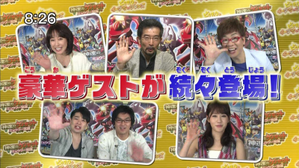 Linked Episode: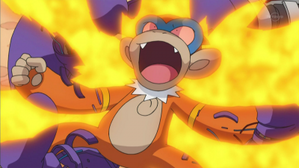 Link to Episode Guide
Available On:
Titles
爆進化! ゴウカザル!! / 映画の情報をゲットするため、よみうりランドに出動! / 映画館で貰える「色違いのゲノセクト」と前売券の「ミュウツー」でダブルバトル!
Bakushinka! Goukazaru!! / Eiga no jōhō wo get suru tame, Yomiuri Land ni shutsudō! / Eigakan de moraeru 'Irochigai no Genesect' to maeuriken no 'Mewtwo' de double battle!
Blast Evolution! Goukazaru!! / Off to Yomiuri Land to Get Information on the Movies! / A Double Battle Featuring the 'Alternate-Colored Genesect' Received in Theaters and the 'Mewtwo' From the Pre-Order Tickets!
Airdates
OP/ED List
Pokémon Smash (Variant 4)

No notes available for this episode.
Japanese Music:
Music Statistics:
Number of Assigned Tracks to the Japanese Original: 0
Number of Assigned Tracks to the English Dub: 0