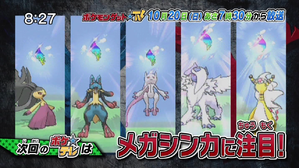 Linked Episode: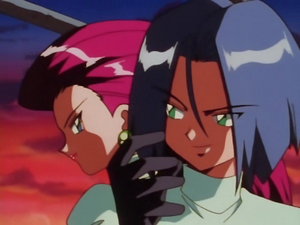 Link to Episode Guide
2013-10-20 たいけつ! ポケモンセンター! / ゆきとディレクターが考えた「想像を超えろ!メガシンカの世界」、身近なものがメガシンカ? / ハリマロン・フォッコ・ケロマツの新情報!
2013-10-20 Taiketsu! Pokémon Center! / Yukito-director ga kangaeta 'Sōzō wo koero! Megashinka no sekai', midjikana mono ga megashinka? / Harimaron Fokko Keromatsu no shin jōhō!
2013-10-20 Confrontation! Pokémon Center! / Director Yukito Comes up with the Segment 'Beyond Imagination! The World of Mega Evolution', where Everyday Objects Mega Evolve? / New Information on Harimaron, Fokko and Keromatsu!
OP/ED List
ポケダンシング☆XY

No notes available for this episode.
To celebrate TV Tokyo's 50th Anniversary, a special eye catch aired at the beginning of the episode that featured Pikachu and Chespin, Fennekin and Froakie.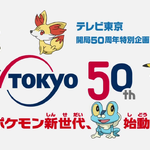 Japanese Music:
Music Statistics:
Number of Assigned Tracks to the Japanese Original: 0
Number of Assigned Tracks to the English Dub: 0