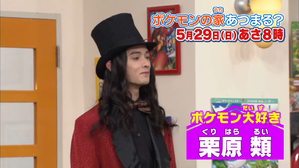 Available On:
2016-05-29 栗原類さんが出すポケモンクイズにポケんちメンバーが挑戦! / 栗原類さんのバトルにヒャダインが大混乱!
2016-05-29 Kurihara Louis-san ga dasu Pokémon quiz ni Pokénchi member ga chōsen! / Kurihara Louis-san no battle ni Hyadain ga dai konran!
2016-05-29 The Pokénchi Residents Get Challenged to a Pokémon Quiz by Louis Kurihara! / Hyadain Struggles Greatly in His Battle with Louis Kurihara!