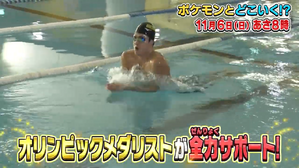 2022-11-06 リオオリンピック銀メダリストでポケモン好きの坂井聖人選手が、平泳ぎが上手くなる練習法を直接指導!
2022-11-06 Rio Olympic gin medalist de Pokémon-suki no Sakai Masato-senshu ga, hiraoyogi ga umaku naru renshū-hō wo chokusetsu shidō!
2022-11-06 Rio Olympics Silver Medalist and Pokémon Fan Masato Sakai Gives In-person Guidance on How to Practice in Order to Get Better at the Breaststroke!
OP/ED List
PokéDoko

Japanese Summary:
ポケモン大好き少年が夢を叶えるために猛特訓!平泳ぎがうまくなって妹と一緒にカッコよく泳ぎたい!!銀メダリスト坂井聖人選手の直接指導で平泳ぎ25mに挑戦っ!!

リオオリンピック銀メダリストでポケモン好きの坂井聖人選手が、平泳ぎが上手くなる練習法を直接指導!うまくなる秘訣は、ふみつけ!?泳ぎが苦手な松丸くんと一緒に陸と水中でトレーニング!!25mを泳ぎきれるかな?

Japanese Summary Translation:
A boy that loves Pokémon is working hard at making his dream come true: Getting good at the breaststroke so he can look cool when swimming with his younger sister!! Today he'll be trying the 25m breaststroke while receiving guidance directly from silver medalist Masato Sakai!!

Rio Olympics silver medalist and Pokémon fan Masato Sakai gives in-person guidance on how to practice in order to get better at the breaststroke! The secret is to use Stomp?! He'll also train with poor swimmer Matsumaru-kun both on land and in water!! Will Matsumaru be able to swim 25m?
No notes available for this episode.
Japanese Music:
Music Statistics:
Number of Assigned Tracks to the Japanese Original: 0
Number of Assigned Tracks to the English Dub: 0