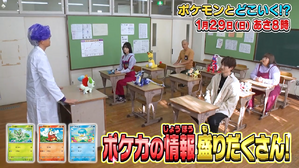 2023-01-29 初心者でもわかりやすいジニア先生(!?)のポケカ授業! / ポケモンSVと同じ舞台『学校』で、ポケカ探し!!
2023-01-29 Shoshinsha demo wakariyasui Zinnia-sensei(!?) no Pokéca jugyō! / Pokémon SV to onaji butai "gakkō" de, Pokéca-sagashi!!
2023-01-29 A Pokémon Card Game Class That's Easy to Understand Even for Beginners, Hosted by Instructor Zinnia (?!)! / Searching for Pokémon Cards in the Same Setting as Pokémon SV: At a School!!
OP/ED List
PokéDoko

Japanese Summary:
初心者でもわかりやすいジニア先生(!?)のポケカ授業!ついに高橋ひかるも一大決心でポケモンカードバトルに初挑戦!!途中、スター団の邪魔が入り、ハッシュターグ!?

ポケモンSVと同じ舞台『学校』で、ポケカ探し!!ヒントを貰うためのお題でキスマイ宮田のバスケ姿が!得意のダンスでウェー二バルそっくりの振りやジャニーズポケカ部の話も!?

Japanese Summary Translation:
A Pokémon Card Game class that's easy to understand even for beginners, hosted by instructor Zinnia (?!)! Even Hikaru Takahashi finally makes the momentous decision to have her first Pokémon Card battle!! However, it's interrupted by the Star Gang?! Hash-taag!

Everyone searches for Pokémon cards in the same setting as Pokémon SV: At a school!! Miyata from Kis-My-Ft2 becomes a basketball player to clear a challenge and receive a hint! He also swings just like Wanival when showing off his specialty, dancing! And he'll even talk about the Johnny's Pokémon Card Game Club?!
No notes available for this episode.
Japanese Music:
Music Statistics:
Number of Assigned Tracks to the Japanese Original: 0
Number of Assigned Tracks to the English Dub: 0