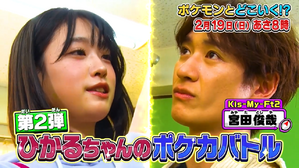 Available On:
Titles
ジニ松先生から教わる、世界一わかりやすいポケカ講座!!テーマは『トレーナーズの使い方!』 / 初心者高橋ひかるが宮田に挑戦っ! / あばれる君とポケだちが1対1でバトル!
Zinnimatsu-sensei kara osowaru, sekaiichi wakariyasui PokéCa kōza!! Thema wa "Trainer's no tsukaikata!" / Shoshinsha Takahashi Hikaru ga Miyata ni chōsen! / Abareru-kun to Pokédachi ga 1 tai 1 de battle!
The Easiest-to-Understand Pokémon Card Game Lecture Ever, Taught by Instructor Zinnimatsu!! Today's Theme is "How to Use Trainer's"! / Beginner Hikaru Takahashi Challenges Miyata! / Abareru-kun and a Pokénd Have a 1-on-1 Battle!
Airdates
OP/ED List
PokéDoko

Japanese Summary:
ジニ松先生から教わる、世界一わかりやすいポケカ講座★☆テーマは『トレーナーズの使い方!』基礎から学んで自信に繋げる!初心者高橋ひかるが宮田に挑戦っ!

『ポケモンSV』あばれる君とポケだちが1対1でバトル!ポケどこメンバーと勝負が夢だったポケだちが、メンバーへの質問をたくさん考えてきたよっ♪

Japanese Summary Translation:
The easiest-to-understand Pokémon Card Game lecture ever, taught by Instructor Zinnimatsu! Today's theme is "How to use Trainer's"! Start from the basics and improve your confidence! Beginner Hikaru Takahashi challenges Miyata!

In Pokémon SV, Abareru-kun and a Pokénd have a 1-on-1 battle! This Pokénd has dreamed of battling the Pokédoko hosts, and has come up with lots of questions for them!
No notes available for this episode.
Japanese Music:
Music Statistics:
Number of Assigned Tracks to the Japanese Original: 0
Number of Assigned Tracks to the English Dub: 0