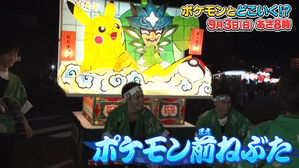 Titles
青森のねぶた祭にあばれる君が登場! / 『ポケモンSV』最新情報
Aomori no nebuta-matsuri ni Abareru-kun ga tōjō! / "Pokémon SV" saishin jōhō
Abareru-kun Visits the Aomori Nebuta Festival! / The Latest News on Pokémon SV
Airdates
OP/ED List
PokéDoko

Japanese Summary:
青森のねぶた祭にあばれる君が登場!大迫力のねぶたが並ぶ中、オーガポンとピカチュウの前ねぶたが遂にっ!お祭りを楽しむ"どうぐ"や"はねる"を極めて、ラッセーラ♪

『ポケモンSV』最新情報も!

Japanese Summary Translation:
Abareru-kun visits the Aomori Nebuta Festival! This time, a mae-nebuta featuring Ogerpon and Pikachu finally appears among the intense nebuta! Master the Items and Haneru to enjoy the festival and rassera!

We'll also have the latest news on Pokémon SV!
No notes available for this episode.
Japanese Music:
Music Statistics:
Number of Assigned Tracks to the Japanese Original: 0
Number of Assigned Tracks to the English Dub: 0