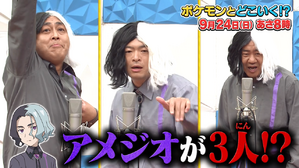 Titles
憧れのアメジオを目指して、あばジオがまさジオとたかジオを連れてきたジオ! / 『ポケもぐ!』に、ピッピが初登場!
Akogare no Amethio wo mezashite, Abathio ga Masathio to Takathio wo tsuretekitathio! / "Pokémogu!" ni, Pippi ga hatsutōjō!
Aiming to Become Like His Idol Amethio, Abathio Brings Masathio and Takathio to the Studiothio! / Pokémogu Features Pippi for the First Time!
Airdates
OP/ED List
PokéDoko

Japanese Summary:
憧れのアメジオを目指して、あばジオがまさジオとたかジオを連れてきたジオ!エクスプローラーズの衣装にノリノリまさノリ★☆『ポケもぐ!』に、ピッピが初登場!

エクスプローラーズファン必見!アメジオの名シーンをアフレコだジオ!! ▽ゆびをふる!ピッピの絶品スイーツも♪

Japanese Summary Translation:
Aiming to become like his idol Amethio, Abathio brings Masathio and Takathio to the studiothio! It's time for Norinori Masanori dressed like the Explorers! In addition, Pokémogu features Pippi for the first time!

A must see for Explorers fans, featuring the dubbing of iconic Amethio scenesthio!! And it's Metronome time when we make marvelous Pippi sweets!
No notes available for this episode.
Japanese Music:
Music Statistics:
Number of Assigned Tracks to the Japanese Original: 0
Number of Assigned Tracks to the English Dub: 0