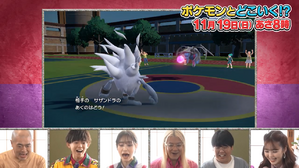 Titles
『ポケモンSV』バトル最強決定戦(1)!! / あばれる君VSポケモンファッショニスタ! / ポケどこのピンク担当を賭けた闘い
"Pokémon SV" battle saikyō ketteisen (1)!! / Abareru-kun VS Pokémon fashionista! / Pokédoko no pink tantō wo kaketa tatakai
The Pokémon SV Battle Championships (Part 1)!! / Abareru-kun VS a Pokémon Fashionista! / A Match Where the Position of the Pink Member of Pokédoko is at Stake
Airdates
OP/ED List
PokéDoko

Japanese Summary:
ポケモンをこよなく愛す芸能人でPWCS!?ポケどこで・ワイワイ・力の限り・勝負だっ!!1回戦は、あばれる君VSポケモンファッショニスタ!R-1準優勝のあの人も!!

あのテラスタルタイプで、運命の勝敗が…!? ポケどこのピンク担当を賭けた闘いも!

Japanese Summary Translation:
A PWCS featuring celebrities that love Pokémon more than anything else?! It's time! For cheerful competition! To the best of everyone's abilities! At Pokédoko!! In round 1, Abareru-kun faces a Pokémon fashionista! And a certain R-1 runner-up is here too!!

A certain terastal type leaves the outcome of the battle to fate...?! We also get a match where the position of the pink member of Pokédoko is at stake!
No notes available for this episode.
Japanese Music:
Music Statistics:
Number of Assigned Tracks to the Japanese Original: 0
Number of Assigned Tracks to the English Dub: 0